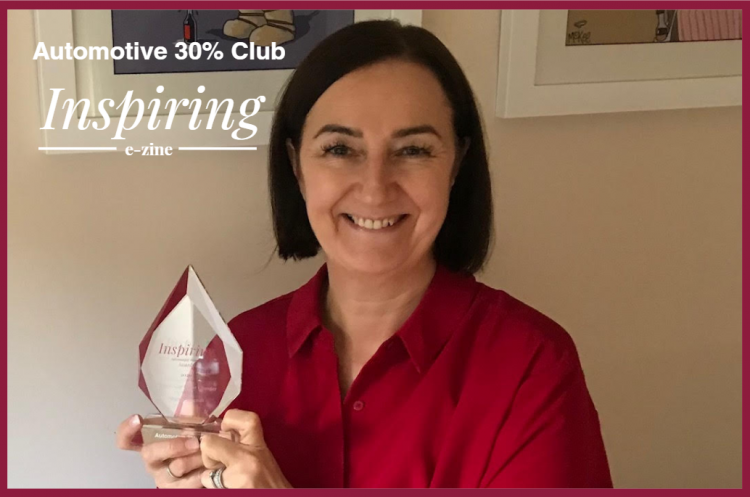 Sharon Ashcroft is the HR Director at TrustFord. In the Inspiring Automotive Women Awards 2020, Sharon was awarded the HR Director Game Changer Award. This award recognises the action she's taken to drive improvements in the gender balance in her organisation. This year she's celebrating 15 years with TrustFord and has been instrumental in making their business inclusive and diverse, with women now making up 30% of the leadership team. Sharon is an advocate of the Automotive 30% Club, and analyses gender balance data to drive diversity,  and as a champion for the apprenticeship scheme, has helped twenty young women begin automotive careers.
Sharon is a passionate supporter of the automotive industry charity Ben and is a member of its board of trustees. Away from work she enjoys travel, spending time with her family and her dog Sammy.
Congratulations on being named HR Director Game Changer at the Inspiring Automotive Women Awards 2020. What does this mean to you?
It was truly overwhelming to receive this award. We have many supremely talented and hard-working HR Directors throughout our industry and to be recognised in this way is really special and means a huge amount to me. Your winning nomination focused on your lead in driving improvements in the gender balance at TrustFord and making the business inclusive and diverse. It is great to see that 30% of TrustFord's leadership team is now filled with diverse women.
What were the main strategic changes you implemented in TrustFord to achieve this?
The Automotive 30% Club's 30 by 30 strategy was a great starting point. Here's how we applied it to our business: Reach Out – We have aimed to attract more women to TrustFord primarily through outreach work, and particularly with the younger generation. Through schemes such as Speakers for Schools myself, our Marketing Director Julia Greenhough (another of our Inspiring Automotive Women Award winners) and other members of our leadership team have talked to young women about the opportunities available in automotive and challenging their preconceptions. I'd like to think TrustFord is an attractive proposition to all potential candidates. Our culture and Purpose, Principles and Ambition (PPA) are central to that, reflected in our success in the Sunday Times Best Companies to Work For List. Key colleague benefits such as flexible working and improved maternity provision also help our roles appeal to a wider pool of potential candidates.
Welcome In –  To remove potential bias from our recruitment process many roles are recruited through Assessment Centres, with candidates undergoing a series of tasks and interviews. This process ensures we recruit colleagues on behaviours rather than experience, opening opportunities up to a wider range of candidates. We have also implemented blind recruitment – removing names and any other information from applications that could enable unconscious bias when hiring.
Pull Through – Pulling women through the promotional pipeline ties in with our ambition to grow and retain the best people. All colleagues receive a regular 1-2-1 with their line manager and their ambitions and development is carefully managed. We offer a variety of progression pathways – including new for 2020 our Future Leaders programme – ensuring that we retain our top talent.
Hold On – To retain talented women it's not all about satisfying a desire for progression. In some roles within the automotive industry as a woman it can be easy to feel isolated and we're working hard to address that. We already had a fantastic organic female support network across the group – highlighted in the award nominations for Julia and our Group Business Systems Manager Rhonda Johnson; they have both mentored and supported the development of many of our colleagues and are fantastic leaders within our business. We have now formalised that support structure with our Women's Network, in which female colleagues meet regularly to support female colleagues across the group and discuss how we can improve diversity within our TrustFord Family.
Were you faced with any challenges, and if so how did you overcome them? 
Making significant change in business is never easy – there is always the potential to push back. First, it's important to give our changes context – for example with our blind recruitment we took time to explain the rationale behind the changes. We assured colleagues that blind recruitment was not in response to any prejudices identified within the group, but part of an overall strategy to improve diversity within the TrustFord – which ultimately benefits us all. It's also key to have male advocates for the change – buy-in from the male leaders of the group has been superb. Our Chairman & CEO Stuart Foulds is very passionate about improving the diversity of our group and is a key attendee of our Women's Network meetings. Other male members of our Board & Leadership team have also been prominent in our efforts – particularly in supporting female colleagues' progression in our Aftersales business.
How did it feel when TrustFord achieved the 30% target?
t's fantastic that we have achieved the target and I hope all other members can follow suit, but I'm very aware that we have lots more work to do. I'm very passionate about increasing the diversity of our TrustFord Family – as is our Chairman and the rest of our Board & Leadership team – and getting closer to reflecting the 30% target at all levels of our business is a key focus for me in 2021.
How have the policies implemented to drive gender balance within TrustFord positively affected the culture of the business?
As I mentioned previously I believe we already had a superb inclusive and supportive culture within the business. Our Purpose, Principles and Ambition (PPA) are central to that, with particular focus on our principle of Care – which encourages all colleagues to think about how they conduct themselves at work and show respect and care to everyone at all times. It's very early to assess how the changes we have made have impacted diversity within the group; it's something we'll continue to focus on and we'll be working closely with the 30% Club to develop and improve our strategy.
During the first lockdown, you ran a weekly Virtual Quiz to engage colleagues. This clearly had a positive effect on those who took part, why did you feel it was important to host this type of engagement?
When lockdown happened it was immediately apparent to me that engaging and supporting our colleagues would be essential to navigating this difficult period. With many colleagues working from home and lots more furloughed, we didn't want colleagues to feel isolated – which has serious mental health and other wellbeing implications. The quiz was one element – introducing a bit of fun and something for colleagues to look forward to at the end of the week. We also ran a range of competitions to keep colleagues engaged, released daily updates with wellbeing and activity ideas
and lots more. However, the real star of the show for us was our Engage colleague app. This was hugely important throughout 2020 – enabling us to keep colleagues up to date on the changing situation and get answers to any questions they had in real time. Engage will continue to be key to our strategy to support colleagues throughout 2021.
Finally, do you have any messages to share with those who nominated you for an Inspiring Automotive Women Award?
Thank you so much for taking the time to submit a nomination. I'm really proud that so many of our colleagues supported these awards and took the time to put forward so many of our fantastic female colleagues and I'm particularly delighted that Julia and Rhonda received such deserved recognition. We have some many dedicated and talented women in our TrustFord Family and I hope that next year even more of them are recognised!