Introduction
The Automotive 30% Club, powered by the social enterprise company Gaia Innovation Ltd, is a voluntary network of MDs and CEOs from UK based automotive manufacturing, retailing and supplier companies. The network was founded by Julia Muir, CEO of Gaia Innovation Ltd, with the purpose of achieving a better gender balance within the automotive industry, and with the aim of filling at least 30% of key leadership positions in the member organisations with diverse women by 2030 through a "30 by 30" strategy.
"30 by 30" Strategy
This seeks to achieve business transformation through people - understanding that gender balanced teams lead to better business success.
The strategy has four phases:
Reach Out - to attract more women,
Welcome In - to remove bias in recruitment,
Pull Through - to pull women through the promotional pipeline,
Hold On - to retain talented women
The 30% target is to set a direction of travel to enable progress to be measured; something that is essential in such an objectives driven business. It is not a quota and we do not endorse positive discrimination. Members simply share an enthusiasm to improve the gender balance in the sector, in order to improve the image of the industry, serve the customer base better, enhance company performance, and make the workplace an equitable environment by removing unconscious bias and obstacles that prevent talented women progressing up the career ladder.
We are also a working group of the UK Chapter of the Global 30% club that aims to encourage FTSE listed companies to improve the gender balance of their boards. Their members include the CEOs of FTSE 100 companies including Aviva, GlaxoSmithKline and Unilever, and FTSE 250 CEOs.
Our Members
Our membership is growing at an accelerating pace. Members include the leaders of automotive companies including Keyloop - Patron and co-sponsor of the Inspiration for Innovation Network, Marshall Motor Group - Patron and sponsor of Inspiring Automotive Women Day 2021, Toyota GB Plc - sponsor of the Inspiring E-Zine, Jardine Motors Group - Patron and sponsor of Inspiring Automotive Women Awards, Auto Trader UK - Patron member, Bentley Motors - Patron member, Volvo Car UK - Patron and sponsor of Inspiring Automotive Women Day 2020, Cox Automotive International - Patron member, Volkswagen Group UK, Kia Motors UK, Mazda UK, Ducati UK, Perrys Motor Sales, Vertu Motors, JCT600, Mercedes-Benz Retail Group, Lookers Group Plc, TrustFord, Dealer Auction Ltd, Blueprint Partners, and Close Brothers Motor Finance, Copart, Motorpoint, Solus Accident Repair Centres and EMaC Ltd.
Our members Toyota, Mazda, and Paragon have stated an aspiration to achieve 30% on their operating board by 2020 are also listed as members of the Global 30% Club.
Our Sponsors & Patrons
Tom Kilroy, CEO, Keyloop - Patron of the Automotive 30% Club and Sponsor I4I Network
"Tom is passionate about addressing the gender balance in the automotive technology sector and building a diverse workplace. From the leadership team and throughout the organisation, he believes that the best decisions will be made by creating an environment that enables diverse and creative thinking."
Passionate about gender equality, Daksh hopes his commitment of becoming a Patron of the Automotive 30% Club will spark other companies to really consider what they are doing to create environments which are inclusive to all.
Neil Williamson, CEO, Jardine Motors Group - Sponsor IAW Awards
"Gender balance is a subject that's really close to my heart - my wife and I met in the car industry. She started on the manufacturer's side and ended up on the retail side, and that had challenges along the way. So that's given me a close insight into what it used to be like for females in our world."
"Women need to see and aspire to leadership positions and they need to see women in those positions so that they know it's attainable and they can deliver exceptionally well", comments Agustín Martín, President and Managing Director, Toyota (GB).
Agustín Martín, President & MD, Toyota GB Plc - Sponsor Inspiring e-zine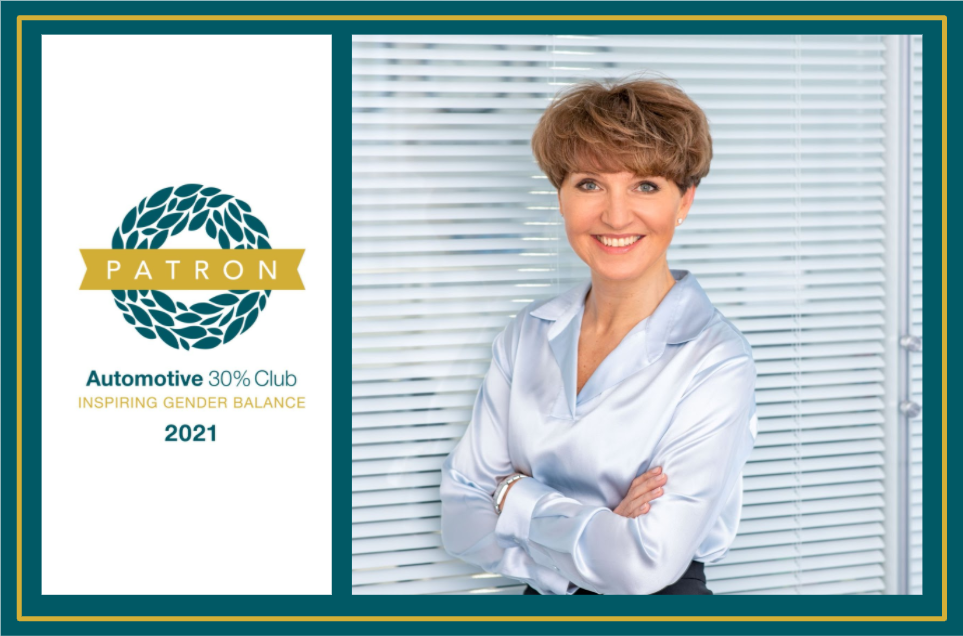 Dr. Astrid Fontaine, Member of the Board - People, Digitalisation & IT - Patron of the Automotive 30% Club
In order to drive the agenda of diversity, inclusion and gender equality, becoming a Patron of the Automotive 30% Club is a commitment from Astrid towards the support of this important societal shift. By getting personally involved, she wants to actively influence and inspire others to get on the path towards a culture of inclusiveness.
Kristian believes a great culture and willingness to change is key to reach gender equality. Volvo strives to ensure their people are able to be the best versions of themselves regardless of social background or individual characteristics. Volvo believes that a strong leadership team is created by having the best people in the right roles.
Kristian Elvefors, MD, Volvo Car UK - Patron and Sponsor IAW Day 2020
Catherine Faiers, COO, Auto Trader UK - Patron of the Automotive 30% Club
For Catherine, the most powerful thing about the Automotive 30% Club, is the dual approach to driving change – from the top down and the bottom up. A good number of the CEOs and leaders of the biggest businesses in the industry are onboard and so we should have a substantial impact if we all engage and work together.
Martin believes that the real opportunity for inclusion and diversity is to focus on being open-minded. He comments: "The issue is not necessarily lack of diverse talent within the industry, but employers only hiring like-minded people."
Martin Forbes, President, Cox Automotive International - Patron of the Automotive 30% Club