Countdown to 30% by 2030 - Our 10 Year Mission for Change
The Automotive 30% Club conference 2019 was kindly sponsored by Auto Trader UK, and took place on Thursday November 28th.
Our theme for this year focused on how we plan to assist our members in reaching our shared goal of achieving 30% of women in key leadership positions by 2030. Our aim was to give our delegates a clear overview of the activities that took place in 2019, along with our exciting plans for the year ahead.
To discover a full overview of the event, read our article here.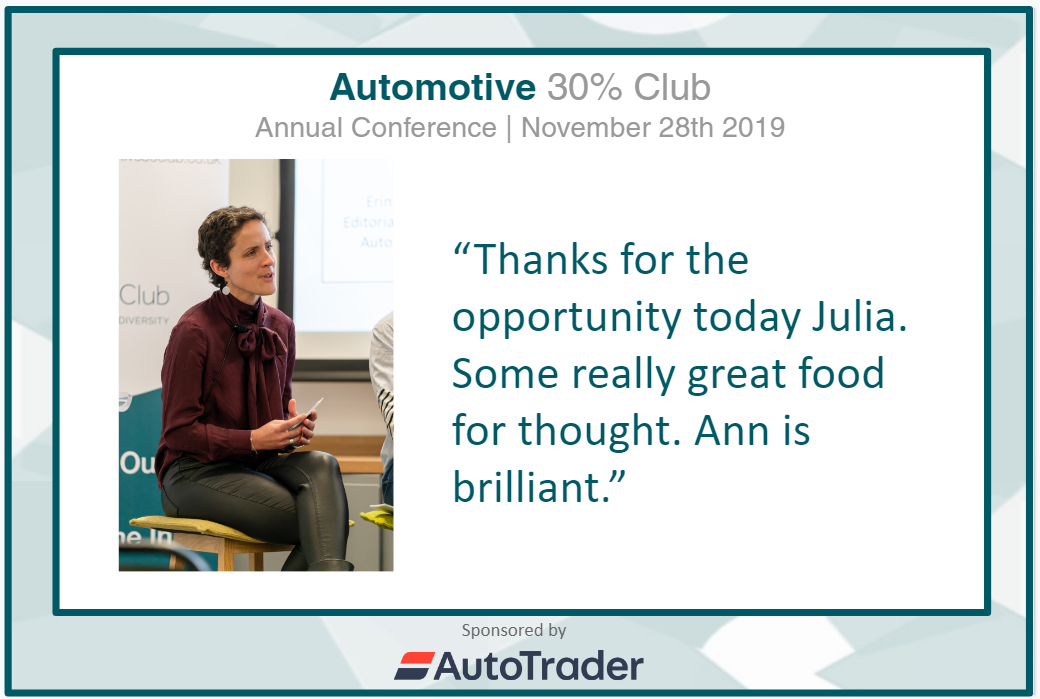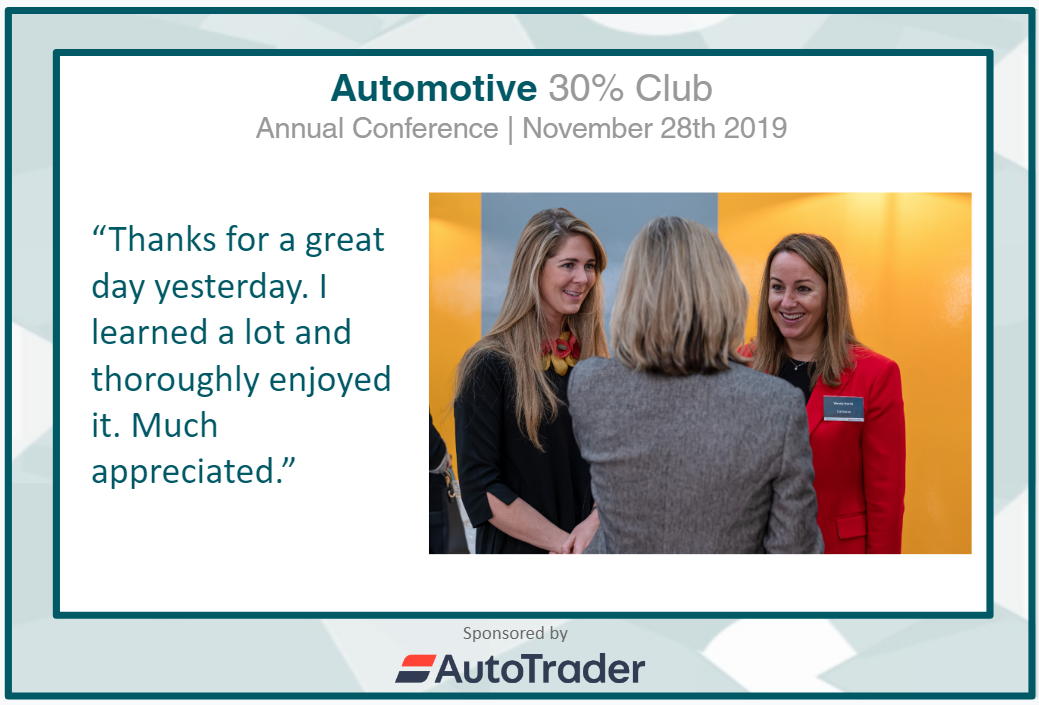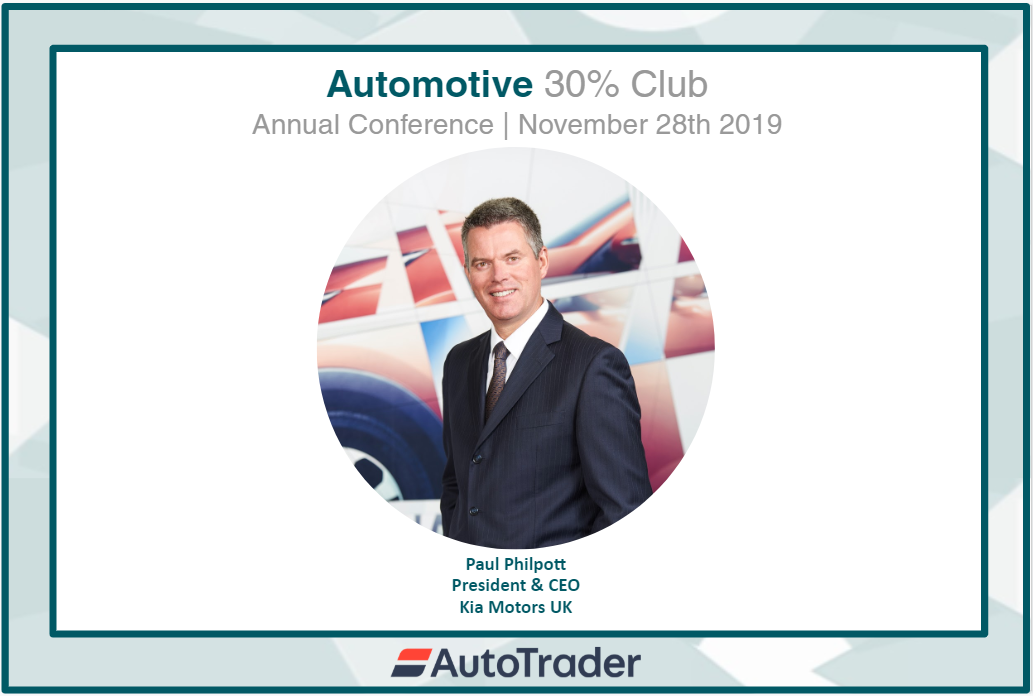 Keynote speaker Paul Philpott discussed the great work Kia Motors UK are doing to achieve a greater gender balance across their organisation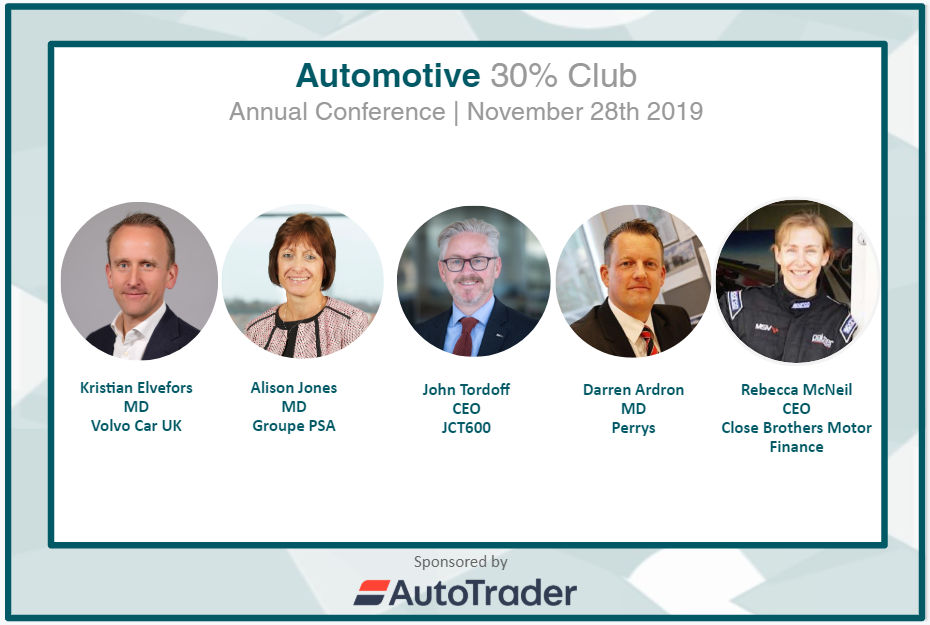 Our impressive panel of CEOs and MDs discussed the role of leaders in driving transformational change for a gender balanced business and also talked about the importance of #30by30.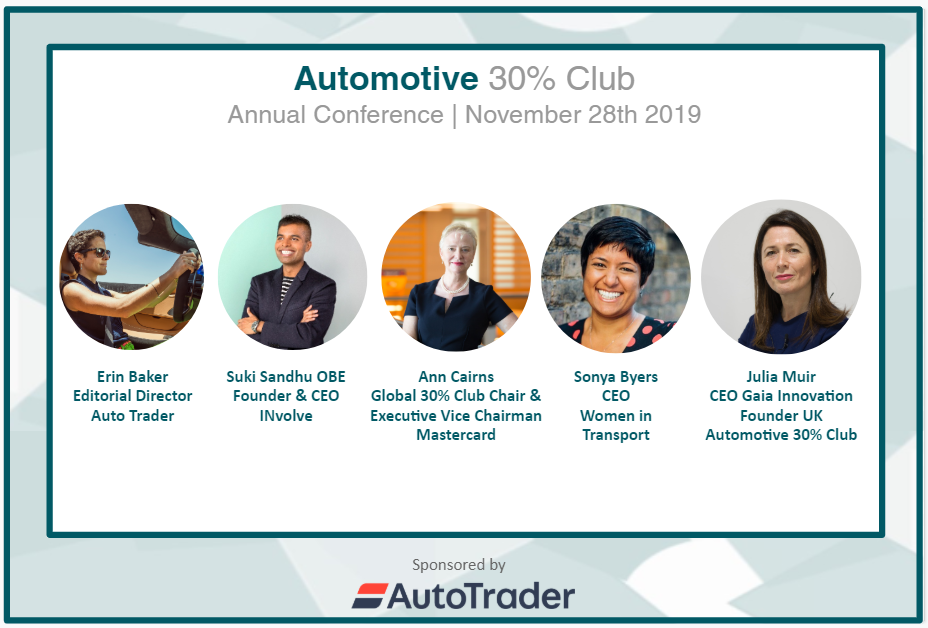 Introducing our Gender Equality Influencer Panel chaired by Erin Baker. Our impressive panel discussed the size of the challenge, and gave our delegates advice on what can be done to create an inclusive culture. To read more about our panel: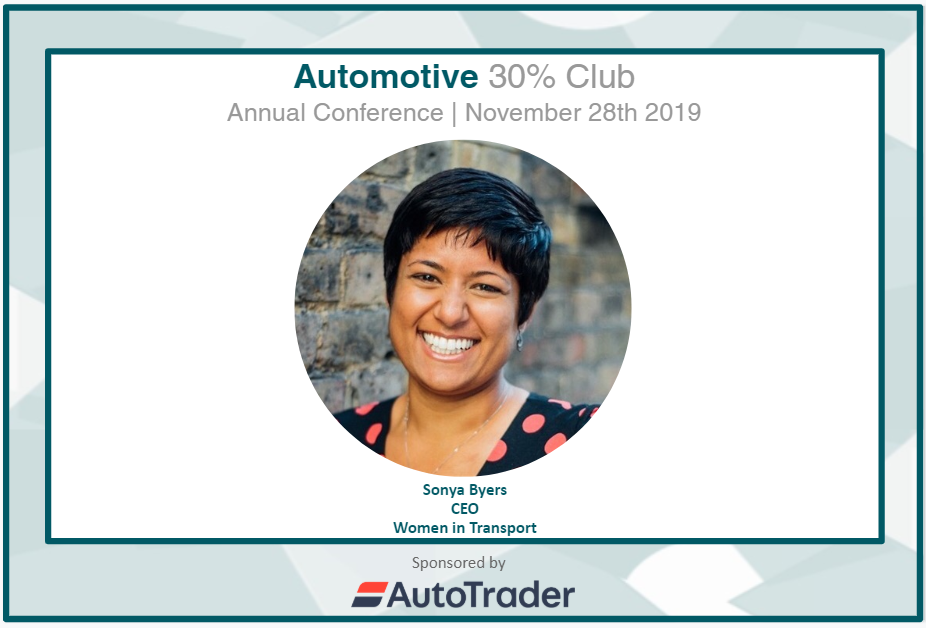 Sonya Byers talked to our delegates about Women in Transport and also gave an overview of their "Advance" mentoring programme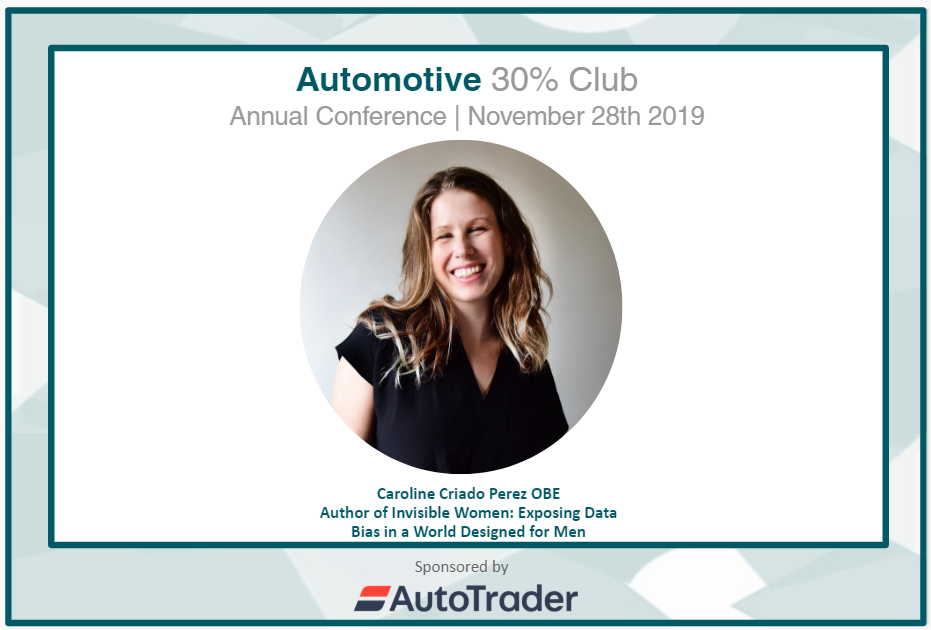 VIP Guest Speaker Caroline Criado Perez talked to our delegates about her amazing book Invisible Women, which was recently awarded the Royal Society Science Book Prize. It is with special thanks to Automotive 30% Club member, Anne de Kerckhove, CEO of Freespee, for her sponsorship of this session. To read more about Caroline: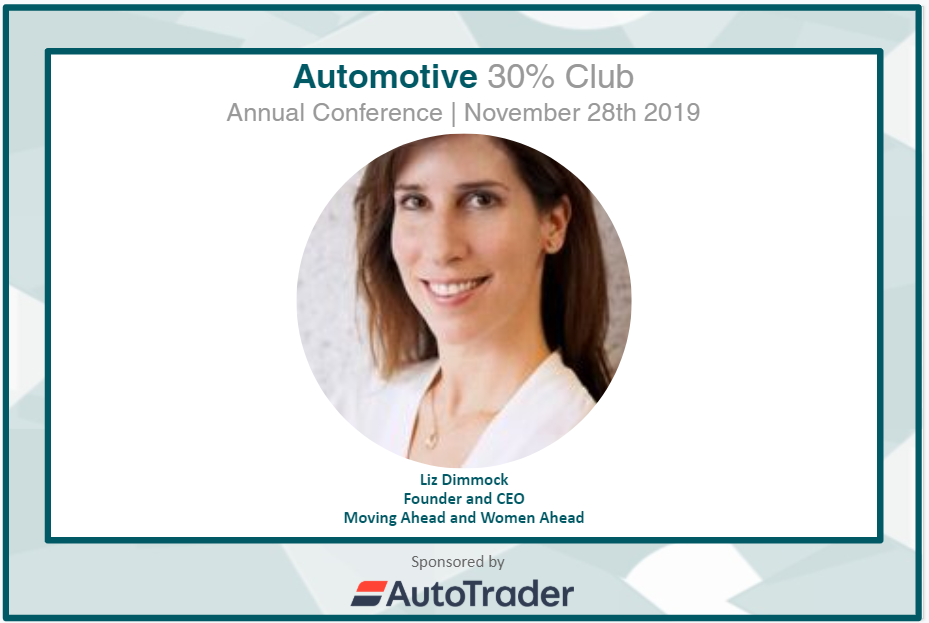 Liz Dimmock, Founder and CEO, Moving Ahead and Women Ahead introduced the Global 30% Club's cross-company Mentoring Programme and discussed the many benefits of mentoring. To read more about our Liz: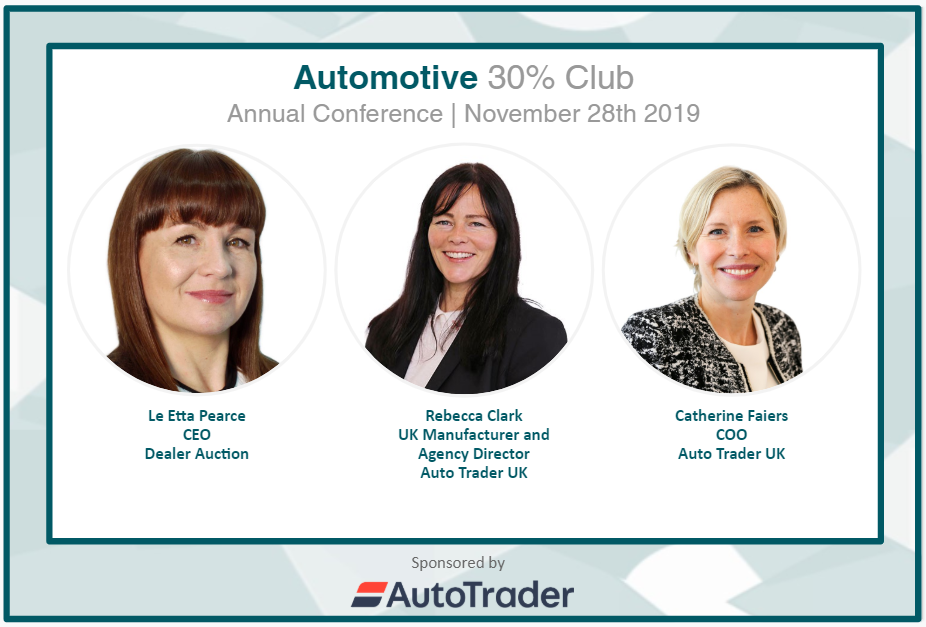 Le Etta, Rebecca and Catherine explained how they are 'lifting others as they rise' and also the actions they are taking as a company to achieve a gender balance by ensuring women are welcomed and can thrive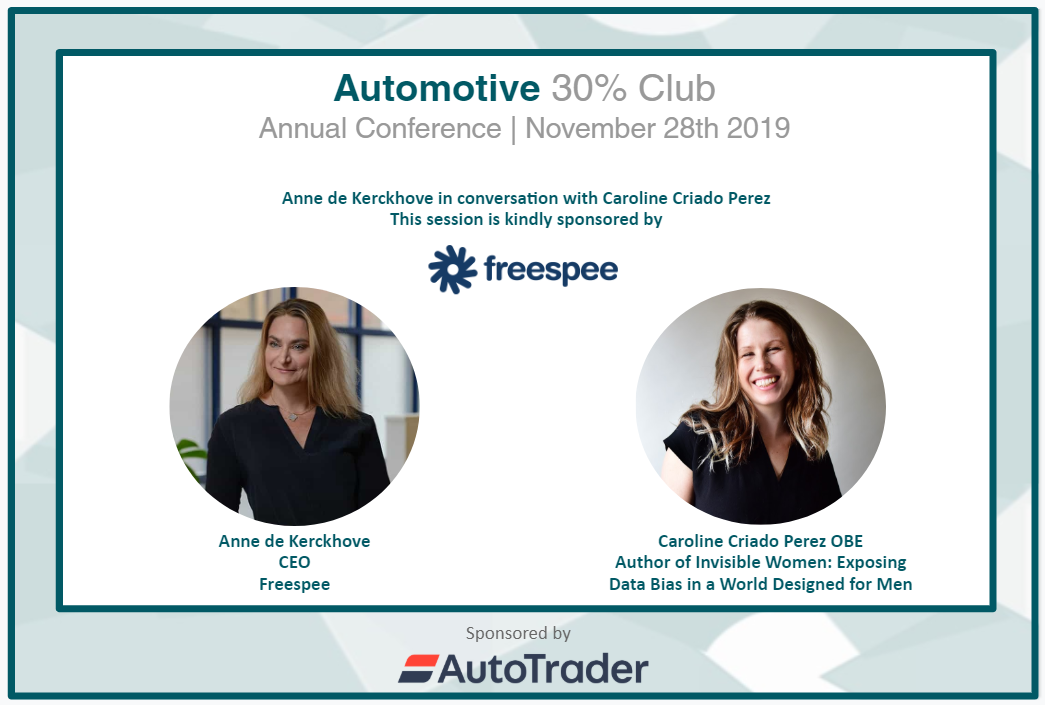 Anne de Kerckhove, CEO, Freespee was in conversation with Caroline Criado Perez discussing her book Invisible Women: Exposing Data Bias in a World Designed for Men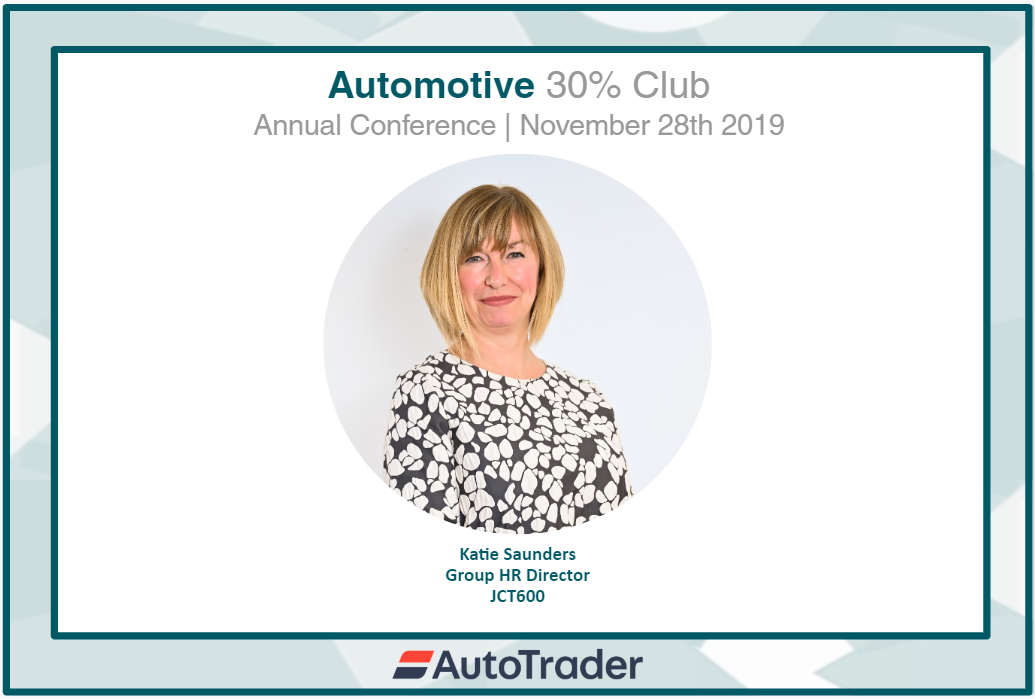 We featured our enabler companies who have made a positive impact within our network. Katie Saunders, HR Director at JCT600 spoke of her positive experience with JP Coaching Group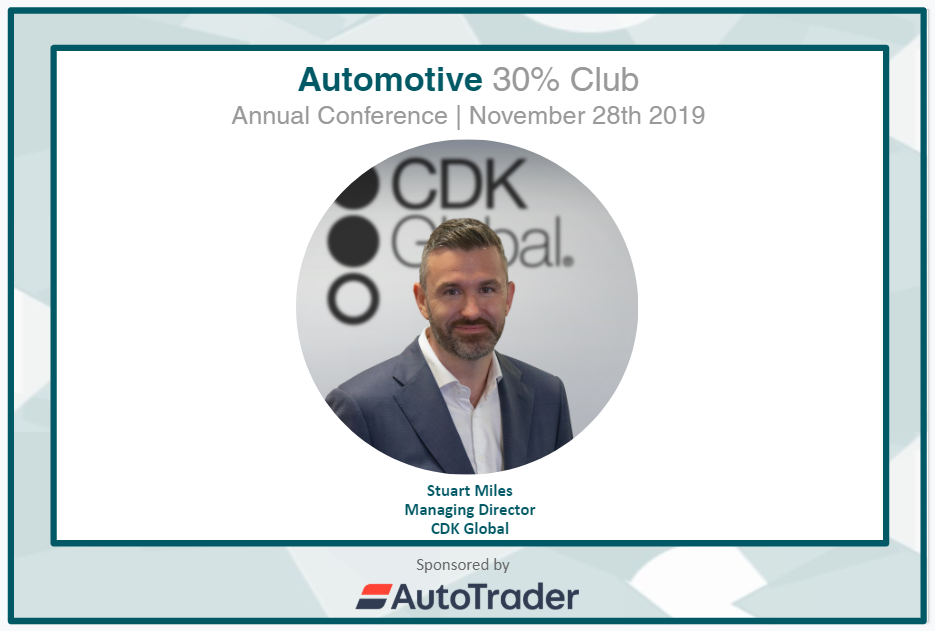 In October 2019 we announced our newly launched Outreach Network, proudly sponsored by Keyloop. Stuart Miles, Managing Director spoke to our delegates, at our conference, on why he feels this was such an important programme to support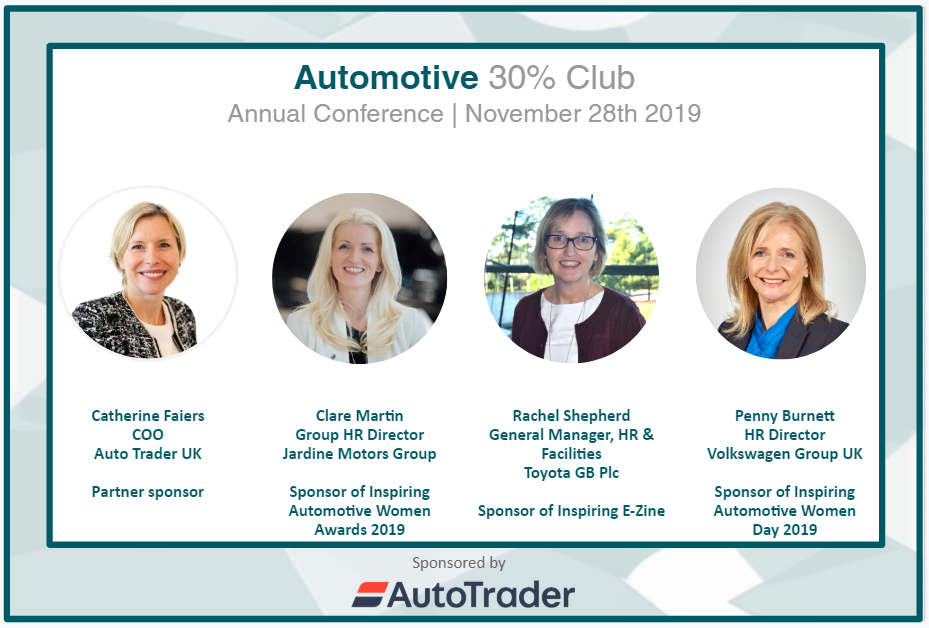 Delegates heard from the club's 2019 supporters reflecting on the impact of the events they have sponsored