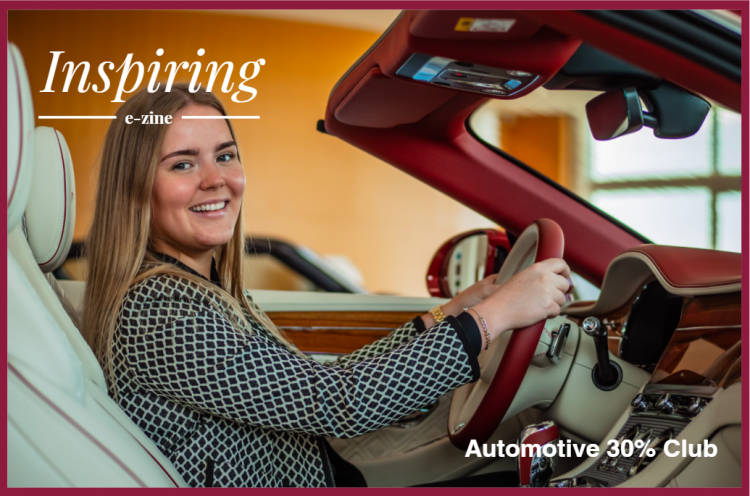 Lilly-Ann Hulse is a Digital & Technology Degree Apprentice at Bentley Motors. In the Inspiring Automotive Women Awards 2020, Lilly-Ann was awarded the Rising Star Award. The award recognises the amazing impact that Lilly-Ann has made at Bentley Motors in such a short time, and being a positive role model for young women and encouraging them to join the industry. During her first year as an apprentice, she has become a critical team member, getting engaged with the company beyond expectation and delivering business-changing projects to the Board and wider company. As an ambassador for Bentley, Lilly-Ann presented at a European conference and has taken part in initiatives with schools to encourage careers in technology.
Congratulations on being named Rising Star of the Year at the Inspiring Automotive Women Awards 2020. What does this mean to you?
I am absolutely delighted but also extremely surprised that I have won this award. I have only been with Bentley for a relatively short time. I am very passionate about my work and I am so very lucky that when showing initiative the senior leadership team has given me a lot of opportunities. I am delighted that my contribution has been recognised to such an extent that senior leaders felt they should nominate me for this award. I hope that it helps other young women to see what the possibilities are in the automotive industry. 
You are an ambassador for Bentley Motors. What does this involve?
Being an ambassador has increased my exposure both internally and externally which has expanded my skills and mind-set. I use social media – Twitter and LinkedIn to spread positive messages online. I have spoken at an international MuleSoft conference on behalf of Bentley; I spoke about the APIs that I developed and showcased Bentley's digitalisation story. I have also attended careers fairs and spoke at schools to encourage future talent into the automotive industry. 
As an ambassador, you actively contribute to future talent programs by supporting initiatives to connect with schools to encourage careers in technology.  Why is this important to you, to encourage other females to consider a career in technology? 
I believe many people are not aware of the different routes that can be taken in the automotive industry. It is in all cases the right thing to have a diverse workforce to enhance innovation; I believe by supporting initiatives I help females realise that the automotive industry is an environment in which they could thrive. Seeing and speaking to someone who is just over a year into their journey that they can relate to, may encourage them to look into technology which often is a path they have not considered before.
You are a Digital & Technology Degree Apprentice at Bentley Motors. Why did you decide to take this route instead of the traditional university route?
I knew I wanted to take the digital route; I studied computer science for my A levels. I attended a lot of career fairs, spoke to people who worked in the field and signed up for some work placements. The industry is ideal for a degree apprenticeship as you are able to apply your learning immediately into your work practices. It is an added incentive not to be burdened with university fees but earn a salary whilst learning at work.
I believe this will set me up much better for a future career than if I had gone down the traditional university route. At Bentley, I have been given many opportunities despite only being new in my role and I couldn't wish for better support from my line manager and colleagues across the business in both my development in work but also at university.
The Covid-19 pandemic hit during your first year at Bentley Motors. This obviously affected your training and working relationships with colleagues. How have you managed, working from home? How have you stayed in contact with colleagues? What three things have you learnt about yourself during this period of time?
I am really lucky to be working with some amazing people; we have really made the most of Microsoft teams and video calls! If anything, the pandemic has strengthened working relationships. I regularly have catch ups with my colleagues over coffee and have a chat with them. I have been involved in delivering projects remotely with people I have never met. I have also been attending university from home one day a week. As well as this I have been on-site to do a few workshops after the restrictions were slightly lifted; it was really nice to see my colleagues even with their masks on! 
I also volunteered to help on the production line for a month to support the business in this critical time. It was a great experience as I was able to see the business from the shop floor. It was great to be able to experience a new routine after working from home for so long. 
During the pandemic I learnt that I needed to find myself a new structure for my day in order to keep myself motivated and productive; I learnt that in order to be productive I needed to put myself first and not work long hours no matter how easy it is to be tempted to do so, it was important for me to look after my mental health. Finally, I learnt that it was important to block out time in my diary where I could get my head down to do some work as it is very easy when working remotely to spend your days back to back in meetings. 
 We understand that you have developed an app for internal use during the Covid-19 pandemic. Please can you explain more about what this app does, why you decided to develop it and how it is positively helping the business?
The primary app I have been working on during the pandemic is an app that was scoped prior to Covid. It is an application for Senior Executives to have the ability to securely share information from their phones. Due to remote working the application became even more relevant; components from this application were reused in applications to support Bentley to come back stronger after the factory shut down. Including a system utilised by people managers for forecasting of COVID-19 related health and availability. I have also been involved in the development of the Bentley Employee News application that shares information to all colleagues. And I have been supporting the wider digital team in other applications created for the site ramp up. 
Finally, following your degree what are your future ambitions? What do you love about working in the automotive industry, and why would you encourage other females to consider a career in the sector?
Following my Degree I plan on developing my skills; I am quite keen to learn more, maybe do a Master or PhD. I have learnt so much in my first year and currently, I am looking into eventually doing project management but I am still undecided. As we have seen, many things can change in a short amount of time. I really enjoy seeing how projects I have worked on are delivering value for the business, and how technology can be utilized to make a business that already has people at its heart, communicate and become more efficient. I hope that I can continue to progress and work on wider projects across the automotive industry. During my induction with Bentley, someone said, we should never say 'no' to opportunities offered! I will go after every opportunity that I can and I am excited for what the future holds for me at Bentley and in the automotive industry.
I would definitely encourage other females to do the same as the sky's the limit in the automotive industry.