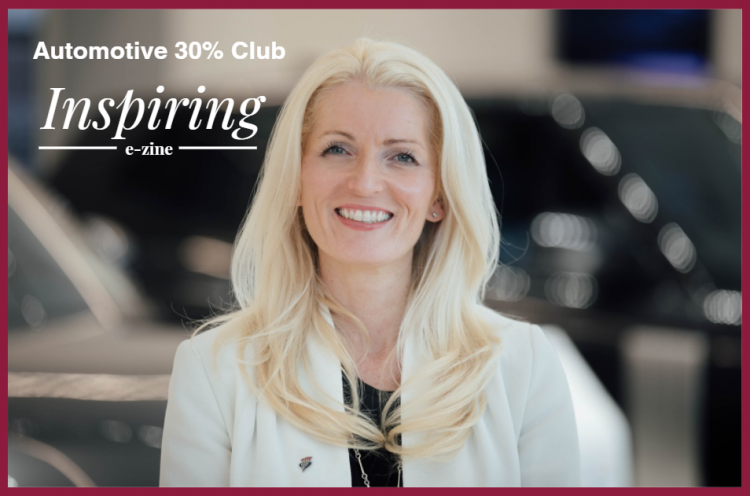 Clare Wright is the Group HR Director at Jardine Motors Group. In the Inspiring Automotive Women Awards 2020, Clare was awarded the Inclusive Leader Award. This award recognised Clare's passion for gender equality, successfully driving an inclusive culture in Jardine Motors Group and being a true advocate and ambassador for the Automotive 30% Club. Her quick and decisive actions responding to Covid-19 meant the safety of colleagues was put first with new HR practises created almost daily. She leads a flexible, inclusive and recognition-rich culture, that takes care of the wellbeing of all colleagues. She is a thought-leader campaigning to change perceptions of the motor industry. We are excited to have had the opportunity to speak to Clare following her recognition at the Inspiring Automotive Women Awards 2020 and asked her questions based on her winning nomination.
Congratulations on being named Inclusive Leader of the Year at the Inspiring Automotive Women Awards 2020. What does this mean to you?
I am honoured to have received this accolade and am so proud of the work we have carried out at Jardine Motors Group towards building an inclusive culture with the support of CEO Neil Williamson and my fellow directors.  Without having their encouragement and backing, our inclusion initiatives would not have achieved such widespread impact and positive participation throughout the business.  
We are only at the beginning of our inclusion strategy, which we refreshed at the start of last year, and there is always more work to be done across all areas of diversification. The COVID-19 pandemic has had some positive effects on our inclusion strategy and we've progressed forward with flexible and home working options but our focus now is on giving our colleagues a voice, making them part of the solution to how we become more inclusive in our culture and empower them to take ownership.
I am extremely proud to have received this award in recognition of our continued dedication to an inclusive workplace, and to be recognised in this way by an organisation such as the Automotive 30% Club is a privilege. 
What has been your drive to create an inclusive culture at Jardine Motors Group?
I have always had a passion to do the best I can for the colleagues around me and firmly believe in the importance of inclusivity. Not only is it simply the right thing to do, but it is a well-known fact that an inclusive culture drives a better performing business. We already see this within our teams that are more diverse, they perform highly in other areas such as employee engagement and customer satisfaction. 
It is no secret that teams become more innovative when they are made up of a spectrum of people; after all, diversification of thought comes from diversification of talent. Having this diversification of thought within our teams means we can better understand our customers and cater to their needs more effectively. Not only this, but we want our customers to feel comfortable during any interaction they have with us, and a diverse team is more able to connect with customers on a human level.
It is important to stress, however, that our inclusion strategy is not about meeting quotas. As members of the Automotive 30% Club, we're proud to have 30% of women in our senior management roles, but in other areas, we will not set such targets. For me, inclusion is not about box-ticking, as this way of thinking can easily drive the wrong type of behaviour. We want inclusion to be something positive and organic within the business and something that our colleagues all benefit from. At the heart of it all, creating an inclusive business culture is about removing biases and barriers to create a level playing field for success and where everyone can thrive.
Your nomination focused on the culture at Jardine Motors Group, allowing employees to bring their true self to work. Can you explain the meaning behind this? Why is it important to the business? What has been the impact on colleagues?

During one of our diversity and inclusion focus group sessions, it was clear that there are still some areas where colleagues don't feel as though they can be their authentic selves in the workplace. When we don't bring our whole selves to work, our wellbeing suffers and so does our productivity and engagement. This is because we spend too much time and negative energy being concerned about doing or saying the 'right' thing. In turn, this then makes it difficult for individuals to perform at their highest level because team members hold back from being authentic and potentially their contribution is not 100%. 
Employers must actively promote a safe environment in order for their colleagues to bring their full potential to work every day, where they can put all their passion and energy into their roles. In doing so, colleagues will be happier, more relaxed and engaged with their work, which will then only go on to benefit the business in a plethora of ways.
Our whole inclusion strategy is centred around our colleagues feeling like they can bring their entire, authentic selves to work. The key to this is respecting and celebrating our differences as a community. We believe that only once this people-led culture is achieved, individuals within our business can really thrive.  
You have recently pushed through an agenda focusing on flexible working patterns and home working. Did you meet with resistance from Directors and Managers? If so, how did you overcome this?
As a business, we were discussing flexible working options prior to the pandemic (although it has certainly been accelerated by Coronavirus) and ran a survey asking what flexible working meant to our colleagues. These results were then taken to Directors for agreement on what our flexible working policy should look like. We all agreed this was the right step to take in order to retain and attract new talent, and so the introduction of the policy was agreed upon with no resistance. 
Our flexible working policy centres around empowerment; managers are empowered to do what is right for their teams and the individual employee is empowered to find a working arrangement that works for them and the role they do.  The policy consists of both formal and informal practices for doing what is right for the individual, whilst ensuring there is no negative impact on fellow colleagues or the business as a whole. To me, it's about understanding that everyone is different and not one working arrangement suits all.  For example, we've introduced more part-time and working-from-home roles, but also acknowledge colleagues have a life outside of work, whether it's as a carer for a relative or having children, so there will be random occasions which require flexibility on both sides.
Please also detail the benefits to the business and impact on staff wellbeing.  
This high level of flexibility is working extremely well for our business and our colleagues. Homeworking has enabled employees to work around personal commitments, which contributes greatly to retention levels. 
As well as this, we have experienced increased productivity, motivation and engagement. Rather than needing to work within the confines of an office-based structure, colleagues are trusted to complete their work in a way that suits them. We have found that many individuals appreciate the degree of autonomy that comes with home working and are happier developing a routine that is better suited to them, which leaves them feeling more motivated to give their best. 
Offering home working has also allowed us to extend our recruitment net when attracting new talent into the business. We are no longer limited to a set of geographical areas for many roles, as we can offer remote working to candidates. 
Ultimately, we believe flexible and home working has had a positive impact on employee wellbeing, enabling colleagues to achieve a better work-life balance. You have a life outside of work and what makes you, you, is a combination of both – as a business, it is important that we recognise and support this. 
We hear that you work with girls from disadvantaged backgrounds focusing on self-belief and confidence. Why do you believe it is important for someone in your position to do this, why would you encourage others to do something similar and what do you personally gain from it?
Outside of work I mentor a range of women and young girls from adverse and less socially mobile backgrounds. The work I did with the school children was a group of young ladies with high potential but who were potentially limited in their career aspirations due to a narrow social circle or lack of role models. 
I am a strong believer in 'if you can see it, you can be it' and that society should be equal for everybody to achieve their potential. There's an entire breadth of roles out there and lots of different ways to enter a career outside of the 'traditional' routes; you can be whatever you want to be based on the skills, passions and interest you have. This is why mentoring is so important, as it provides young women with a new set of tools to help them realise their career opportunities and know-how to pursue them. 
Anyone can be a role model – regardless of where you are in your career, you have experience and knowledge that you can impart. When you love what you do, why wouldn't you want to share it and inspire others? 
Finally, do you have any messages to share with those who nominated you for an Inspiring Automotive Woman Award?
I would like to say thank you to the colleagues that nominated me for this award. I am honoured to have received such an accolade and feel energised by this to keep pushing forward with our inclusion strategy. However, I am not in this alone and am constantly drawing inspiration from the people around me, so I would like to thank my colleagues for their continued support. I will use this award to continue to make a positive difference within Jardine Motors Group and across the automotive industry.