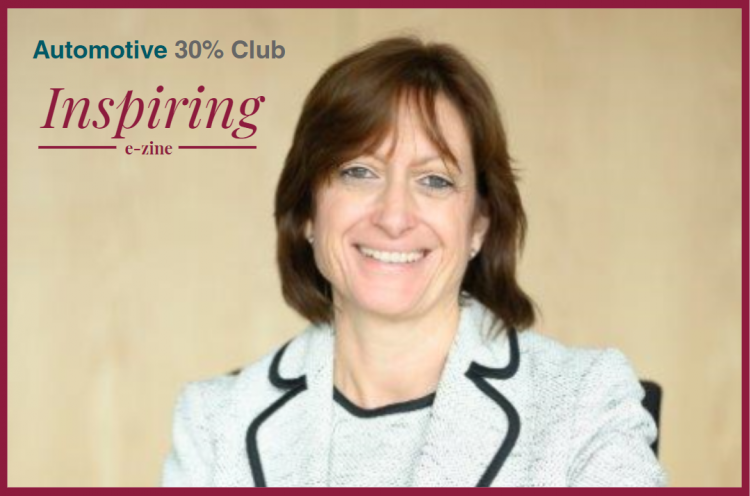 Alison Jones is the Group Managing Director UK & Senior Vice President at Groupe PSA.  In the Inspiring Automotive Women Awards 2020, Alison was awarded the Trailblazer Award. This award recognises her high performance and breaking through the glass ceiling to become MD of a UK manufacturer, blazing an inspirational trail for others to follow.  Since joining Group PSA she has overseen a transformation in performance and culture,  driving inclusivity by questioning the status quo and challenging historic working practices. Alison shows it's possible to be both in control and have human empathy and encourages progression and cross-functional moves to recruit a diverse workforce.
We are excited to have had the opportunity to speak to Alison following her recognition at the IAW Awards 2020 and ask her questions based on her winning nomination.  We also spoke to Mark Pickles, Managing Director – Free2Move Lease UK about why he nominated Alison.
Congratulations on being named Trailblazer of the Year at the Inspiring Automotive Women Awards 2020.  What does this mean to you?

It is an honour.  I never thought of myself as a Trailblazer, so to be recognised in this way, and to be able to encourage others, as a result, is a very proud moment.
It was highlighted in your nomination the way in which you adapted your leadership to guide PSA Groupe this year during the coronavirus pandemic. Can you please highlight the key ways in which you ensured colleagues remained safe and informed, whilst ensuring the business continued to perform despite a difficult trading environment?
When we had the brutal unexpected changes in March 2020, the priority was colleague and customer safety first, then the business sustainability. Colleague safety focussed on immediate work from home where possible, sourcing PPE, and strict protocols for physical safety at our locations.  We came into 2020 with a stronger focus on mental health and wellbeing for our colleagues led by our colleagues.  Little did we know then how much of a positive impact this support would have as we all adapted to our new ways of working. Keeping colleagues informed at a personal and business level was managed through a variety of methods: Regular all staff updates with open Q&A on any subject meant the team were kept up to date, however challenged the environment or uncertainty of the external factors, and our line manager teams played a key role in the daily communications and keeping their teams functioning effectively throughout. Daily (sometimes twice daily) COVID19 steering meetings, with a wide number of colleagues and 20 workstreams meant short sharp non-hierarchical updates and decision making sped up the process of crisis management, and this was a key part of ensuring business performance.  
We took strong fast actions to keep our aftersales businesses open safely to support key workers and supported them with free roadside assistance.  We drove strong digital improvements and got more of our sales business online with selling online and click and collect services, virtual showrooms set up and running to allow live product walkarounds, and contactless processes –  all designed to improve customer convenience and confidence as well as keeping the business running. 
During this difficult time, many business executives have detailed the positives that have come out of this situation.  What are your main highlights?
Team working and skills as well as individual personal commitment – we had many colleagues, both within our business and our franchise partners, who stretched their skills and systems, drove new ways of working, adapted in a crisis, and overall reshaped many areas of our business and industry to survive and be sustainable.
The digital solutions that we were able to implement from new or adapt at speed – ranging from services to customers supporting safety and confidence, internal processes, and new digital solutions.  We moved so fast, it really questions how we operate  'normally'.  We need to keep some of that moving forward.
Your nomination highlighted how you are challenging historic working practises and questioning the status quo in order to create an inclusive culture.  Why did Groupe PSA need to change to create an inclusive culture?  How are your colleagues embracing this change? 
My leadership style is to positively challenge and drive improvement in business and customer results.  One example of how I do this is by working directly with a wide number of colleagues recognising their expertise, not hierarchy.  I do this because it is efficient and effective, and gives colleagues the recognition as well as the accountability for what they do.  Our Groupe PSA business objectives are really clear across the entire business, and the way I like to lead supports the delivery of these objectives through a strong, diverse and engaged team with a wide range of skills.  My style aims to support colleagues, give them more responsibility and development when they want it, valuing specialisms, and leads to us being a more engaged and purposeful team.

Finally, do you have any messages to share with those who nominated you for an Inspiring Automotive Women Award?
Thank you so much for taking the time.  It is appreciated.
Mark, why did you nominate Alison for the Inspiring Automotive Women Awards 2020?
Since joining Groupe PSA in the UK less than 2 years ago, Alison has driven significant change in the business. In addition to the challenges of leading through the BREXIT and COVID-19 events, Alison has ensured that the long term imperative of developing talent has not been distracted by turbulent events. I have for several years placed emphasis on inclusivity and on developing my colleagues, however, that job has become easier under Alison's leadership, as she has fostered a culture where it is normal and expected, rather than as peripheral to the often more urgent performance priorities. By focusing on ability, expertise and potential, rather than strict hierarchy or precedent, Alison has cut through the bureaucracy to ensure talent shines through. She has a clear message that progress comes from effort and engagement, which has provided a much-needed stimulus to talented individuals who might be unsure how best to pursue their career goals. In fostering a meritocratic culture, Alison has ensured that all her senior managers place due emphasis on developing long term talent and success, at a time when it would have been easy just to focus on the here and now – and in doing so has created the foundations for ongoing success. In summary, Alison shows that it is possible to be strong without aggression, in control without being hierarchical, and in touch with all levels of the business without being distracted from the strategic priorities – in other words, an inspiring Leader.