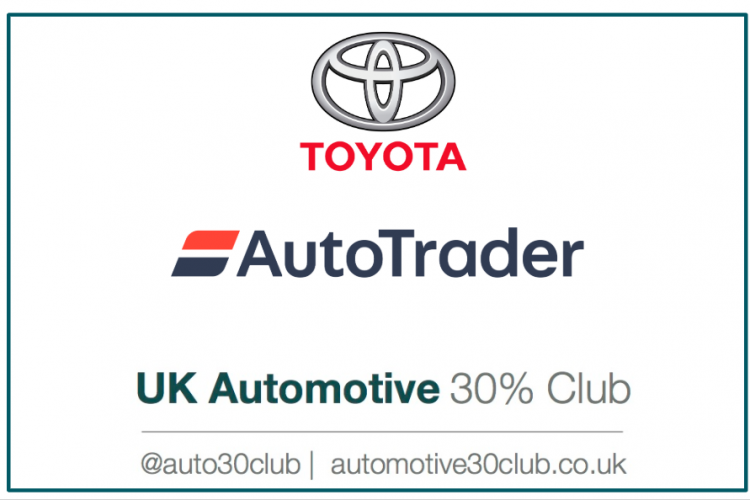 The UK Automotive 30% Club, founded in 2016 by Julia Muir CEO of Gaia Innovation with the goal of achieving a better gender balance in the industry, is scaling up the
services provided to its members by launching a new digital portal on International Women's Day.
The portal will feature interviews with key industry figures including those who have sponsored it; CEO of the clubs overall Partner Sponsor Auto Trader Trevor Mather, and
Toyota GB President and CEO Paul Van Der Burgh, sponsor of the digital magazine housed on the portal and provided for the women of the sector, simply called "Inspiring".
The UK Automotive 30% Club team will curate a wide variety of research reports and opinion pieces about gender inclusion from other sectors and professional bodies, along with advice and guidance on best practice. This will enable club members to access many sources of information that will help them with their aim to fill at least 30% of key roles with women by 2030.
The Inspiring magazine will have informative features about how to climb the career ladder, and interviews with senior executives about their career stories, including Toyota's Rachel Shepherd, General Manager, HR & Facilities. It aims to inspire women to progress, as well as showcase relatable women who may inspire other women in the sector.
Trevor Mather, Auto Trader's CEO, said
"The huge benefits of diversity and inclusion relate to more than just the culture of an organisation; there is a genuine business need
for a more diverse workforce. Despite offering such a broad range of exciting career opportunities, the automotive industry faces a perception challenge, which requires
true collaboration across the whole sector to not only attract the best talent, but to retain it too. That's exactly what the UK Automotive 30% Club is helping to achieve,
bringing our industry together to share ideas and experiences to make it more balanced and representative, something we're very proud to support."
Paul Van Der Burgh, Toyota GB Plc President and CEO said
"Toyota in the UK is proud to be a sponsor of this next step in The 30% Club's important work. Raising awareness of opportunity within our sector among women is vital to our business, and indeed the entire industry. Diversity matters not only because it is 'right', but because companies need to reflect and understand all of their customers and ensure they have access to all the talent they can. This new portal is an innovative, 24/7 access point for people interested in what is one of the fastest-changing major industries in the UK. It will further help our drive to ensure that the automotive sector benefits from the wealth of talent which women can bring to all areas of our industry."
Julia Muir said
"I am very pleased that we have been able to celebrate International Women's Day with the launch of our new portal that I hope will be hugely useful for our
members, thanks to our Partner Sponsor Auto Trader and the sponsor of the Inspiring magazine, Toyota GB Plc. The vision is for this portal to become the "go to" place for
those who see an inclusive culture as a strategic imperative in improving their business performance, and wish to take real action to remove barriers to women's progression."