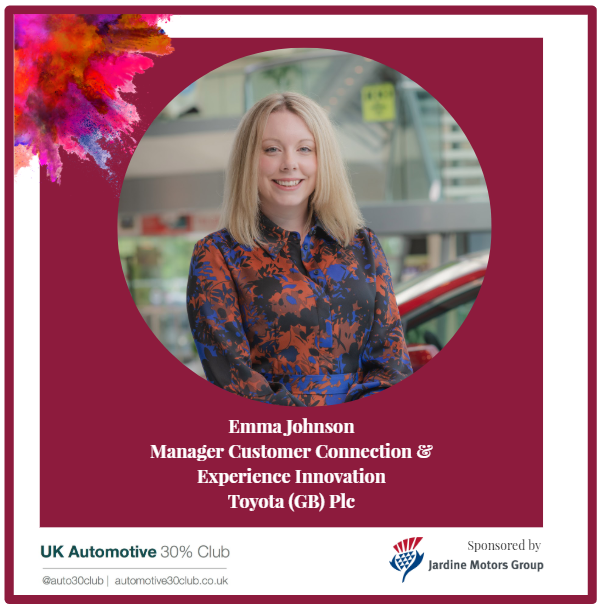 Emma has worked in her current position for three years, and has had a total of eight roles in the thirteen years she has been at Toyota.
Following her placement in the systems team, Emma joined a team called Lean Operations where she supported projects that improved the customer experience while creating a more efficient and effective business processes. Next, she went back to systems as Manager, Product and Quality. She then moved to Product Marketing supporting the vehicle launch process, firstly for Lexus and then Toyota. Next up was After Sales where Emma spent two years in a field role supporting the network as After Sales Manager and then came back into an office to manage a new ecommerce channel before moving to her current role in ConsumerOne.
Emma explains what inspires her to progress: "The variety inspired me initially – I cannot rave enough about the automotive industry and the diverse opportunities it offers. On a daily basis a number of role models (female and male), mentors and generally people that care and want to champion your development inspire me to progress and help others to do the same."
Emma has participated in a number of TGB initiatives that support gender balance. Toyota have Women in Business sessions that bring females at all levels across the business together to discuss specific topics. Emma also participated in a programme called Women on the Verge of Brilliance. This was an opportunity for Emma to really consider what she stands for, what she brings to the company and to have the confidence to 'show up' as herself. 
In addition, Emma is a big supporter of the UK Automotive 30% Club. She has taken part in outreach activities and has also been featured on the Inspiring E-Zine. She has also taken part in the Global 30% Club's mentoring programme.
On hearing the news of her award win Emma commented:  "Such a lovely surprise – thank you! I hope it goes a little way to inspiring others to find out more and want to progress their careers in the industry."
You may also be interested in reading;