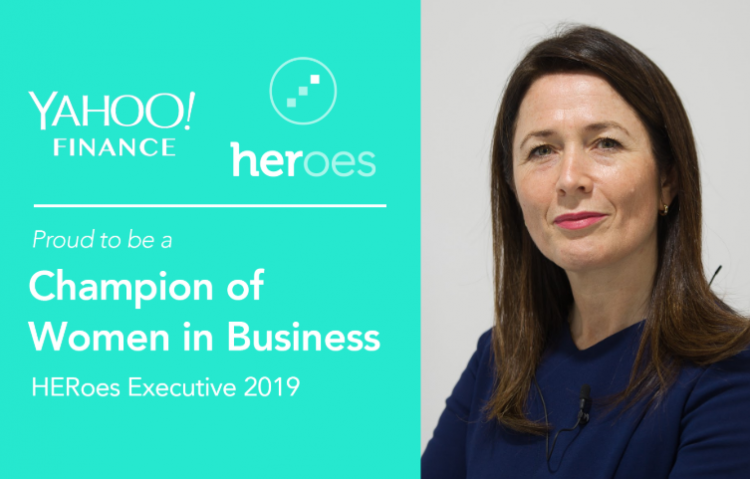 Julia Muir, CEO of Gaia Innovation Ltd, and Founder of the UK Automotive 30% Club has been recognised for her role in actively working to close the gender gap, and has been named on the HERoes 100 Women Executives List for 2019.
Also named in 2017 and 2018, Julia has been listed amongst 100 women who are leading by example and driving change to increase gender diversity in the workplace. 
The UK Automotive 30% Club, is a growing network of 34, CEO and MD members from automotive manufacturer, retailer and supplier companies. The club was founded by Julia in 2016 with the purpose of achieving a better gender balance within the industry and with the aim of filling at least 30% of leadership positions with women by 2030.
Julia specialises in encouraging women to achieve their potential, and inspiring girls to join male dominated sectors and has led campaigns through which industry leaders and female executives engage with schools to inspire more girls to consider careers in automotive. 
She designed the four phase "30 by 30" strategy that the companies have adopted, to encourage the effective hiring, retention and promotion of women in the automotive sector. Each year she runs an Inspiring Automotive Women Day, bringing 100 girls to meet women in the sector, and sending 60 volunteer "real model" women into 30 schools across the country. This year saw her launch the Inspiring E-zine – a digital magazine aiming to create a grassroots movement to inspire women to progress, and also connecting the individual women's networks and development groups together into a "Super-Network". Also new for 2019 are the inaugural Inspiring Automotive Women Awards to celebrate the female employees who are helping to close the gender gap in the sector, which will take place at the beginning of October at the Royal Automobile Club, London.
Gaia Innovation is a social enterprise that embraces flexible and agile working, and builds positive relationships between employers, universities and schools with a goal of achieving the best employment destination for every child. This involves organising inspirational events for school students to meet employers from advanced technology sectors, career networking sessions, employer open days, employability skills training, work experience programmes, and developing outreach programmes for employers to engage with schools. 
Julia Muir CEO of Gaia Innovation and Founder of the UK Automotive 30% Club, comments:
"I'm absolutely thrilled to be named on the HERoes 100 Women Executive List again this year and to be amongst so many incredible role model women who are leading the way in achieving a better gender balance and transforming the workplace, as well as helping other women to progress. Through the UK Automotive 30% Club, I have established a network of CEOs who are committed to a shared goal, and it is important to acknowledge that it is this group of progressive leaders, many of whom sponsor the activities of the Club, who are actually creating the working environments within which women will thrive. "
Founder & CEO of INvolve, Suki Sandhu OBE, says: 
"These lists have been created with one aim – to create gender parity in workplaces across the globe.
The role models we're recognising aren't just those who have achieved success themselves – they're those who are committed to lifting others with them as they climb, and ultimately fuelling the female talent pipeline."