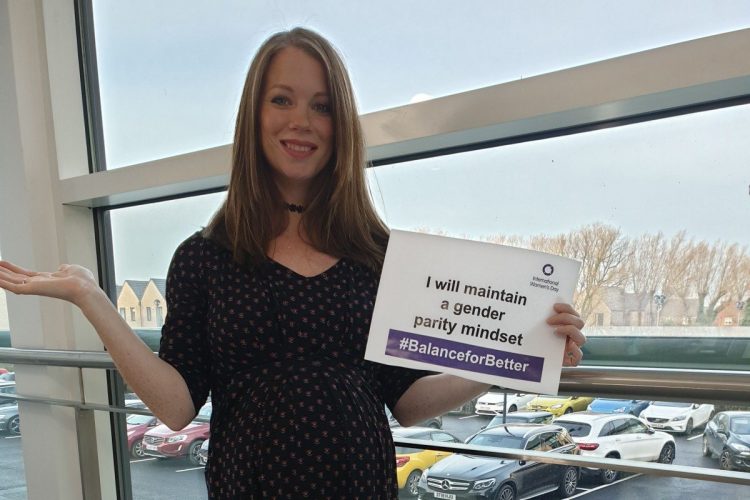 To celebrate International Women's Day 2019, we're bringing you spotlights on women working across Lookers who are paving the way in a male dominated industry. We discover what motivates them, why they love working at Lookers and how we could get a better balance of gender across the workplace.
Lookers have already taken steps to make the workplace more inclusive for women, with strategies such as creating a female apprentice network, becoming part of the automotive 30% club and by offering industry leading maternity leave. However, there is still more to be done before we can become a truly gender-balanced workplace.
Over the coming weeks and months, we will bring you stories of women across the workplace, continuing to shed light on the themes of International Women's Day across the year until the next event in 2020.
This month, we caught up with Christine Houlding. Based in our head office in Manchester, Christine is the Test Manager in our IT department. Due to start maternity leave this month to welcome her second daughter, we caught up with her to find out more about her experience of working for Lookers.
Tell us a little bit about your background and what led you to work for Lookers.
I got into IT testing back in 2001, working in the development team of a Life Assurance company to test changes they were implementing. They chose me because of my eye for detail and I soon realised I loved testing and finding bugs. I've worked in different industries since then, working my way up towards Test Lead and eventually
Test Management roles.
After taking time out in 2012 to have my daughter, in 2014 I decided to set up my own limited company, offering adhoc test consultancy, whilst working full time as a contractor.
I came to Lookers in 2017 to lead the system integration testing on the new Lookers website. A few months into my contract, I was asked to take over the management of the test team on a permanent basis, so of course I jumped at the chance!
Have you had any personal challenges which have impacted your work life and how have Lookers supported you with this?
I try not to let my home life impact my working life. However, recently I've had two close family bereavements. Dealing with this on top of a very busy time at work (working on the launch of the new website) and being pregnant made it a challenge keeping it together some days. But the leadership team here are amazing and supportive, allowing me to work from home when I needed to be close to my family at a very difficult time. Due to timescales on the project, I didn't want to take any time out, but my managers and team checked in on me to make sure I was ok and offered support with the project.
Do you feel there is a good balance of male and females within your workplace?
IT is still a male dominated environment and I think that will still be the case for some time. However, I already see this changing as the next generation of female students take more of an interest in technology. Saying that, there are more females within IT at Lookers than I have been exposed to at other workplaces (where I have often been the only female). Throughout the rest of Head Office where I am based, I see a good balance of males and females.
Is there anything Lookers could do to make things even better for women in the workplace?
I think Lookers is already an attractive workplace for females with the benefits offered, such as one year's maternity pay and flexible working. However, I think we could do better at promoting and communicating job opportunities internally and highlighting female role models throughout the business. I would like to see more of our female leaders visit our office to meet people and talk about what they do.
The theme for this year's IWD is Balance for Better. How do you think we could address a better gender balance across the workplace, not just at Lookers, but in a wider context?
I think when talking about gender balance the focus should not simply be about women, but on making things equal for all. Companies should recognise that both men and women may appreciate flexible working, especially if they have families, but not make the assumption that women would take more time out if they
have a child.
I also think it would be good to encourage more open discussion in the workplace about issues individuals face. Providing a controlled forum for people to share stories in order to educate about possible types of discrimination and the impact of people's words or actions would be useful. I don't believe that 'women only' forums or networking initiatives are the right way to go, as for me they feel exclusive. Conversation should involve all people.
Having female role models speak to the current and future workforce (in schools) about what they do may also help to entice women into more traditionally male dominated roles.
If your daughter joined Lookers, what advice would you give her?
Have confidence in your own abilities, work hard, speak up when you have something to offer to a conversation and have the courage to say when you don't know something. Behave as an equal and people will treat you as one.
To find out more about working at Lookers and browse some of our current vacancies, take a look at our careers page, here.
————————————————————————————————————————————————————————————————————————————
Source: Lookers Plc