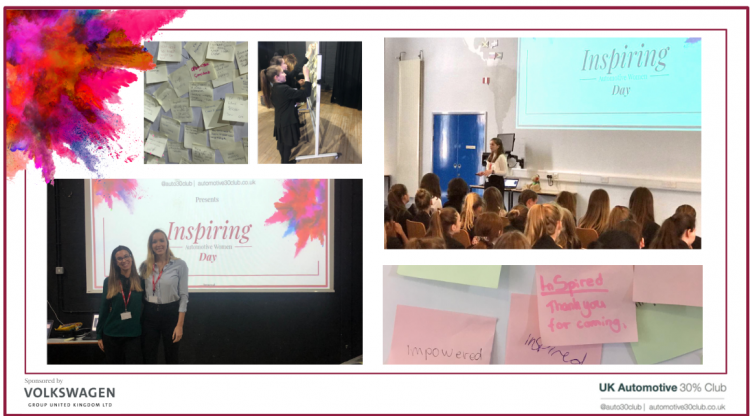 2019 saw the Out-reach of our Inspiring Automotive Women Day, this year sponsored by Volkswagen Group UK, grow considerably. 
In addition to our annual large anchor event, which this year was hosted at the VW Group National Learning Centre on the 3rd of May, we have facilitated 23 school visits by female volunteers from within our member companies, with a further 7 in the pipeline for the autumn term.
28 Volunteers from companies including VWG, Auto Trader UK, Jardine Motors Group, Toyota GB Plc, Volvo Cars UK, Burrows Motor Company, Vantage Motor Group, JCT600, Trustford, Kia Motors UK, Carwow and CarGurus visited a school local to them and presented to female pupils. The aim of the visits were to inspire the pupils to consider careers in the automotive industry and for them to gain a greater understanding of the wide variety of jobs filled by both men and women across the whole sector.
The 30-40 minute presentation consisted of the volunteers detailing their own personal story, career path, and the company they work for, highlighting the wide variety of jobs available. Pupils also engaged in a fun quiz and watched a short film which featured 7 'Real Model' women from within our member companies detailing their career path and what advice they would offer to those considering joining the sector.
The positive impact of the school visits have surpassed our expectations, with a staggering 1700 pupils spoken to so far, with 95% of the measured encounters calculated as meaningful.
Plans to grow our Out-reach even further next year are well underway. We can't wait to share further information with you soon, so do watch this space!
Julia Muir Founder of the UK Automotive 30% Club comments:
"I'm delighted to see the positive impact the Inspiring Automotive Women Day school visits have had, not only on the pupils spoken to, but also our female automotive employees, who have so kindly given up their time to go into schools to talk to these youngsters to inspire them to consider careers in the automotive sector.

Thank you so much to Alex Smith, MD at Volkswagen Group, for your sponsorship, as it has enabled us to reach so many individuals in such a positive way."
Comments from the teaching staff at Outwood Academy:
"Very organised with a good mix of content to the presentation. Pitched to the girls at the correct level in a way they understood. All girls involved were very motivated and seemed to feel empowered by the visit. Very inspirational with a clear message; 'Don't ever let someone tell you you can't do something, you can do anything!'"
With special thanks to Elli Grosvenor, Ellen Riis-White, Catherine Suter, Sarah Brooks-Pearce, Sennen Paine, Natasha Young, Emma Johnson, Carla Henson, Jenny Justice, Jo Tombs, Nicola Langley, Laura Loughran, Debbie Palfreyman, Janine Shepherd, Mollie Murgatroyd, Olivia Wigglesworth, Rochelle Illingworth, Molly Gould, Stacey Laing, Bailey Morley, Sharon Ashcroft, Julia Greenhough, Karen Fagan, Kim Wiggins, Maaike De Vries, Mel Minetti, Zoe Allen, Moyosola Fujamade, Fiona Duffy and Sarah Cunningham.
To read our article detailing the Inspiring Automotive Women Day Event click here.
To read our recent article based on the findings from the Education and Employers charity, in a report suggesting that career talks from people in the world of work, to school pupils aged 15-16 can improve their GCSE results click here.