On Friday 3rd May, the UK Automotive 30% Club brought our annual Inspiring Automotive Women Day event to the Volkswagen Group UK National Learning Centre in Milton Keynes.
The atmosphere from the very start of the day was electric. 100 female secondary school pupils had travelled far and wide to meet with over 30 Inspiring Automotive Women to gain a better understanding of the wide variety of jobs within the automotive sector.
The girls and the volunteers listened to motivational speeches by Julia Muir, Founder of the UK Automotive 30% Club, Penny Burnett HR Director at Volkswagen Group UK, and Alex Smith, Managing Director at Volkswagen Group UK. Alex emphasised the point that 850,000 people are currently employed in the automotive industry, and due to the huge variety of commercial and technical roles, whatever anyone's skills and preferences are there is a job for them in this sector.
The pupils were then split into four activity groups, facilitated by our Inspiring Automotive Women volunteers. Activities included an 'Under the Bonnet' exercise where pupils were shown by the women how technology has advanced and how diagnostic equipment is now used to check for faults on a car. Pupils were then able to have a go themselves. During this session pupils also engaged in an informal discussion with female Vehicle Technicians about the apprenticeship route.
Other activities included 'The Advanced Technology World of Automotive', whereby pupils were able to design their own social media advert with help and advice from some of the industry's top marketing professionals. Another was 'Automotive – There's a Job for Everyone' activity. Pupils in this session heard about the wide variety of jobs available across the sector and engaged in a fun interactive quiz.
'The Value of People Skills' activity was facilitated by Julia Muir along with volunteers representing OEM, the retailer and a supplier, who told the girls how they used people skills in their roles. Julia demonstrated the importance of conveying confidence and positivity to make a positive first impression.
The 'Question Time' panel followed after lunch and cakes  (and after many selfies with the incredible 'Hulk Car' which was featured in the Fast and The Furious movie!) The panel, hosted by Julia, featured four relatable entry level volunteers speaking about their career pathways to date and why they chose to apply for a position in the automotive industry. Pupils then had the opportunity to practice their communication skills and ask the panel members questions.
A careers speed networking session was the perfect close to our event. Pupils had the chance to ask questions to all of our Inspiring Automotive Women volunteers in small groups. Each session gave the pupils a fantastic opportunity to speak directly with 6 Inspiring Automotive Women.
Julia Muir said
"This was our biggest and best ever Inspiring Automotive Women Day event, and it was a great success thanks to the commitment and extremely professional support of the VW Group team. Our dedicated and enthusiastic volunteers travelled from across the UK to help, and feedback from the event shows that the girls and their teachers were truly wowed by the day. I urge all our member companies to enable their female employees to continue to support the day in the future."
Alex Smith said
"It was a privilege to host the Inspiring Automotive Women Day 2019 at Volkswagen Group UK, and great to see the students learning about the breadth of careers in our industry. Inspiring girls at a young age to consider careers in the automotive industry is an important investment in the longer term diversity of our organisation."
Comments from Temilola and Ellie at Kingsthorpe College
"Before I came I thought there were only 3 jobs in the automotive sector; fixing, selling things like that, now I know there are many more jobs available" "Yes I would now consider a career in the Automotive industry, before I wanted to be a dermatologist, but now I want to work for Auto Trader"
With special thanks to our Inspiring Automotive Women volunteers and their companies.
Penny Burnett, Laura Smith, Catherine Suter, Charlotte Subhani, Catherine Baker, Maxine Bonwick, Sibelle Reina, Elli Grosvenor, Ellen Riis-White, Hannah Cuthbert, Bernice Fulton, Jennifer Crew, Aimee Moses, Helen Farr, and Shelley Webb at Volkswagen Group UK.
Tori Bell, Laura McNally, and Hannah Yates from our partner sponsor Auto Trader UK. Amanda Mogan-Wilson, Fiona Hopkins, Danielle Scott and Stacey Miller from Jardine Motors Group – sponsor of the Inspiring Automotive Women Awards. Sarah Booth, Ellie Levy and Sian Evans from Inchcape UK. Rachel Foster-Vickers and Jess Suffield from JCT600. Lauren Hopkins from Lookers Group and Jemma McCarthy from Vantage Motor Group.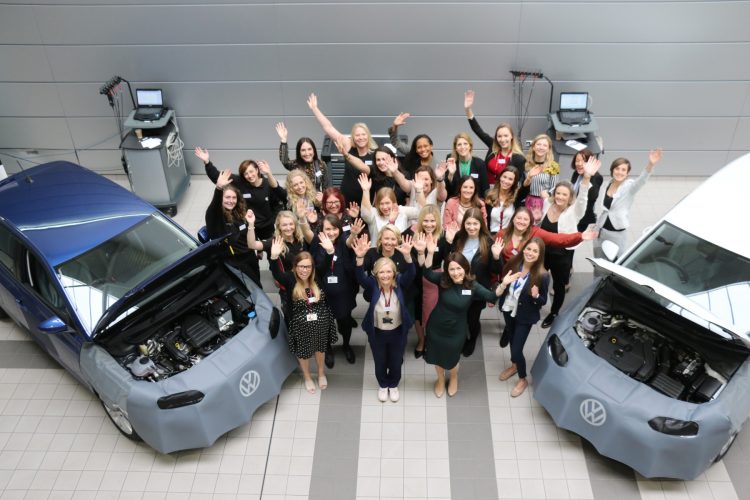 The Inspiring Automotive Women Day school visits are due to take place during May and June. Our volunteers will visit over 30 schools to inspire their female pupils to consider careers within the automotive sector, we look forward to sharing the success of the visits in due course.
If you would like to join our volunteer network to support our ongoing events, tick 'YES' to join our volunteer network upon subscribing to Inspiring. You can manage your account preferences here
To view our inspiring Automotive Women film, featuring 7 'Real Model' women from within our member companies telling their career stories, please view here