Since its inception in 2017, the activities carried out by our Inspiration for Innovation volunteer network have been a resounding success with over 6000 meaningful encounters achieved by our business professionals with students in our three partners schools, Kingsthorpe College, Northampton, Sponne School, Towcester and the Buckingham School in Buckingham.
All of this has been made possible by the original and continued sponsorship from MEPC, Silverstone Park our partner sponsor in the Buckinghamshire and Northamptonshire region, and now extended nationally via sponsorship from our Automotive 30% Club Patron member CDK Global. We are exceptionally pleased that we are able to extend the reach of our virtual school visit activities this year based on these important contributions from our sponsors.
The truth is none of this would have happened without the help of our committed volunteers from Silverstone Park, which is where it all started. Following the trail, (or maybe I should say track), back we find it leads to Ducati…and in particular to Tim Maccabee, MD Ducati UK. Tim facilitated an introduction between Roz Bird, Commercial Director, MEPC Silverstone Park and Julia Muir, CEO Gaia Innovation and Founder of the Automotive 30% Club.
Julia had curated the Inspiration for Innovation programme at the time for use by businesses to reach out into educational establishments to help provide essential links between employees in STEAM-related industries, specifically the automotive sector, and students at primary and secondary school. The need for educating our next generation about the vast array of jobs and opportunities in the automotive and related advanced engineering industries categorically existed then and now and will continue to be required into the long term.
At the same time, Roz had been considering how to future proof the plethora of skills that would be required at Silverstone Park and was already concerned about the widening skills gap in the region. This was likely to accelerate in the area due to the successful procurement of Silverstone Park by MEPC in2013 and it's resulting growth. It's attraction as a global destination for hi-tech automotive and advanced engineering businesses, along with the history, heritage and worldwide reputation of the Silverstone Circuit would fuel the demand for skilled workers.
Tim, having realised that there was a potentially brilliant collaboration to be had between Julia and Roz,  he made the introduction. The rest is history as they say!
Ducati as one of the original members of the Automotive 30% Club and a prestigious tenant based on Silverstone Park was ideally positioned to make the link between the two – the Automotive 30% Club goal is to achieve a better gender balance within the automotive industry, and with the aim of filling at least 30% of key leadership positions in the member organisations with diverse women by 2030 through a "30 by 30" strategy, and MEPC, Silverstone Park has a strategic vision to continue to develop and attract businesses to the Park and to be able to fill the skills gap with local talent and beyond, not just in the short term, but to create a stable flow of that talent well into the future.
Tim and his team at Ducati have been ardent supporters of the collaboration between Silverstone Park and the Automotive 30% Club. The Inspiration for Innovation activities have been abutted and enhanced by the attendance on multiple occasions of Stephanie Chappell, Projects and Office Manager and Debbie Wiggins, Head of Marketing, plus of course Tim Maccabee, MD at our Inspirational Events and school visits in our partner schools in the region. Ducati has also lent their expertise and wider team as part of the Inspiration for Innovation Silverstone Tour that has been provided to 100's of Y8 and Y9 students with the opportunity to visit their amazing site at Silverstone Park over the last few years, to speak with employees and see how the wheels of the business turn. This has provided some invaluable insight for those students and a lot of fun to boot.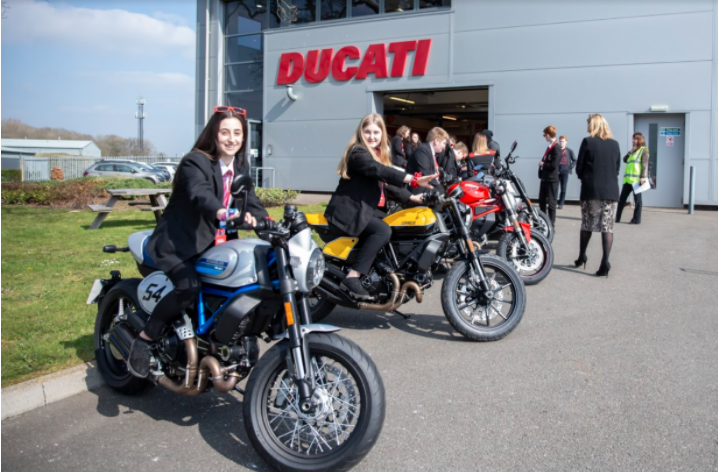 On a personal note too, the Automotive 30% Club Inspiration for Innovation Network has dedicated it's annual volunteer of the year award in memory of the late Tom Maccabee, on kind approval from Tim his father. This celebrates Tom's legacy of active participation as a volunteer himself, working for a cancer charity, and upholds his zest for life. Tim has graciously presented this award to our I4I volunteer winners for the last two years, and we sincerely thank him for that.
We are exceptionally proud to have Ducati on board with our Automotive 30% Club activities and we would like to thank the company and spotlight Tim with our appreciation for that introduction 3 years ago. So far it's been a winner, and we hope to keep pioneering; something that Ducati has been good at since 1947.
Article by – Danielle Humphreys, Inspiration for Innovation Network Manager
Source(s)
https://www.ducati.com/