The Automotive 30% Club 
The Automotive 30% Club, founded by Julia Muir, CEO of Gaia Innovation Ltd, aims to achieve a better gender balance within the automotive and related technology industries, and to fill at least 30% of key leadership positions in the member organisations with women by 2030.
The Automotive 30% Club Outreach Network
We are a national outreach network of volunteers, working with schools, universities and special interest groups. 
We aim to address the gender imbalance in the automotive and related technology sectors by informing young people and inspiring them to consider a career therein.
We are also out to do some myth-busting around the perception of the automotive sector as a place only for those who are 'into cars' or who have a technical mindset; through our outreach work, it is our hope that students will understand the industry's ample opportunities for creativity, collaboration, enterprise and commerce. 
All our time is donated free of charge, and the cost of administering the programme is covered by our sponsors CDK Global Ltd.
Why Take Part?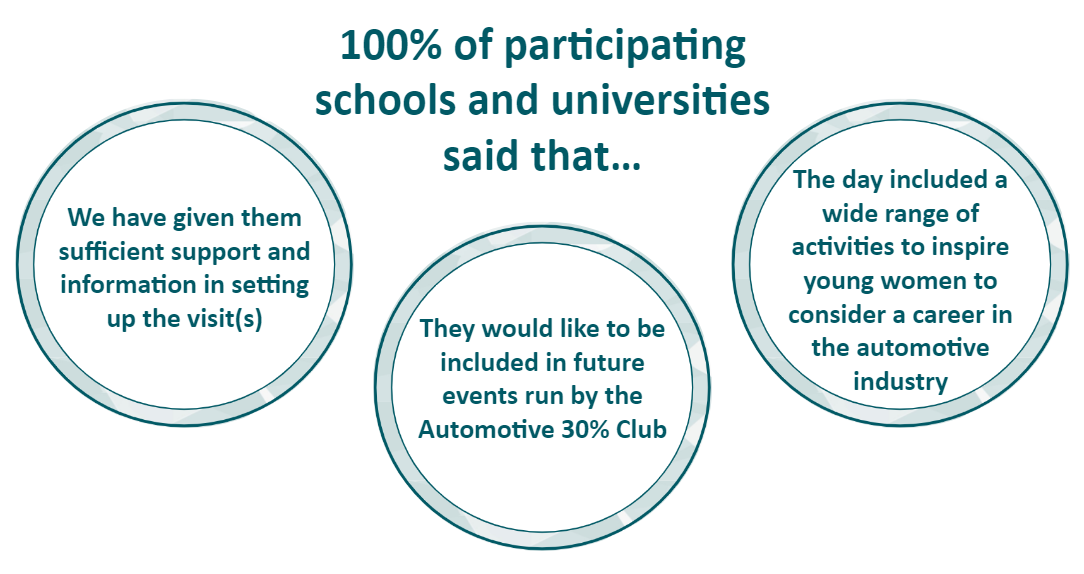 We create access to opportunities for schools and students to have meaningful encounters with experienced representatives from diverse backgrounds such as Digital Media , Marketing, Human Resources and Communications as well as Engineering, Technology and Design  - all within the Automotive sector. 
Our outreach network activities are also relevant for mixed gender audiences. We explain how contemporary businesses are putting in place policies such as shared parental leave and flexible and agile working processes to ensure an inclusive working environment in which all can thrive. 
A visit from one of our automotive business professionals also seeks to broaden horizons and raise aspirations, and could include:
A talk to a large group

Workshop / discussion / masterclass with a smaller group

A Q&A panel session

Attendance at a school or university club or society

Attendance at a special event, eg prizegiving
Our volunteer speakers are mainly senior executives, for example CEOs, MDs, Engineering Directors and HR Directors,  accompanied by a relatable role model in the form of a more junior female colleague such as an apprentice or graduate trainee.  
Please note that our volunteers do not take part in generic Careers Fairs as we believe that their impact is greater in a more personalised and structured setting, as outlined in the examples above.
Building on previous success
The Automotive 30% Club Outreach Network builds on the success of previous outreach initiatives we have organised and overseen, such as Inspiring Automotive Women Day and the 30:30:30 Campaign.
You can find out more about these initiatives by looking at our impact here.
Useful links
We've created a handy useful links page where you can find further information about our 30:30:30 Campaign, the Automotive 30% Club members, research and reports from the Education & Employers Charity, career guidance detailing the Gatsby Benchmarks and the Outreach Network launch. Please click here.
The Automotive 30% Club is powered by Gaia Innovation, whose goal is to achieve the best employment destination for every child, and therefore to attain the best employment outcome for women in the automotive and technology sectors.