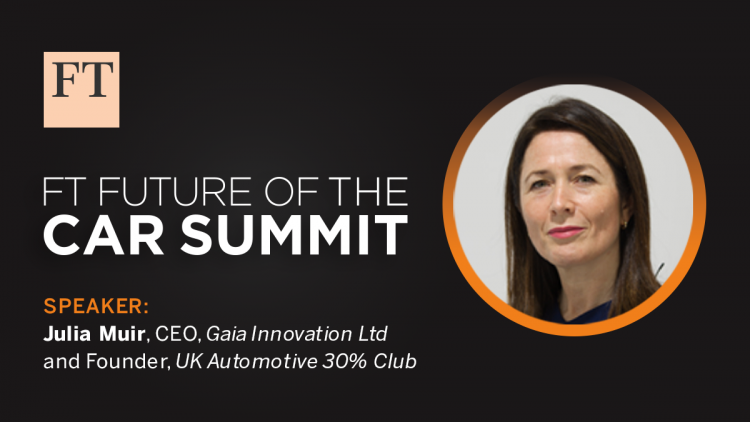 Today I will be appearing in a panel session at the FT Future of the Car Summit, discussing "Workforce Transformation".
I will be making the case that automotive is at the very core of the Fourth Industrial Revolution and as it transforms, so will the types of skills, jobs and people we will need. Low skilled and repetitive jobs will become automated. Highly skilled jobs needing precision and expertise will transform – from the human performing the task, to the human operating a machine that can do the task far more effectively.
We will place an even greater emphasis on the people skills needed to engage with customers both online and offline. The distribution channel will face a step change as OEMs move to digitalise the sales process and own the transaction with the end user, whether that is through a unit sale or miles driven usage model. The "bricks and clicks" retail model will continue to expand, with retailers shifting their focus away from showroom vehicle sales to digitalised order taking and fulfilment, and after sales and customer care will become the core of the business.  We will continue to see the rise of online referral publications like Auto Trader UK and Carwow creating multi franchise digital market places as consumers become more comparison site savvy.
So who will be most affected by the changing world of work? Currently, the majority of women work in several sectors that will be hugely detrimentally affected as many of the jobs are taken by machines:  cleaning, clerical and administration, retail and law. In addition, there is an oversupply of women for caring, hairdressing and beauty therapy roles, which serves to drive the wages down in that sector.
The products we buy and machines we use, including cars, are usually designed by men, engineered by men, built by men, and sold by men. But they are increasingly used and bought by women. Women are the majority of the driving license holders in the UK and globally influence 80% of car purchase decisions. The true car customer is female. Women are not a minority, they are the majority of the UK population.
The transformation within the automotive industry will provide a new employment home for more women, as we seek more people with skills in communications, caring, empathy and customer service. We must also take decisive action to encourage more women to become highly skilled vehicle technicians with the digital and electrical engineering skills that will be needed for the electric, self driving and connected cars. We will need software developers and UX designers. These skills will be in extremely high demand and we will be competing with many other tech sectors for them. To widen the talent pool to be more inclusive is an absolute strategic imperative.
We need more women to decide to follow a career in the operational areas of the commercial functions like Paula Cooper of Toyota (GB) Plc and Elaine Cole of Vertu Motors plc. We also need more women to work in the engineering and technical side of our advanced technology business like Nicola Gough of Bentley Motors Ltd. This country as a whole needs more women to design, build and create technological products, and cyber physical systems, so that machines think in a gender balanced way.
However, after years of negative stereotyping, women will not just come to us – we will need to go to them.
The UK Automotive 30% Club will be launching an Out Reach Network in the autumn to engage with schools, colleges, universities, girls' special interest groups and women's networks. We will build on the success of our annual Inspiring Automotive Women Day, this year sponsored by Volkswagen Group UK, and create a calendar of volunteering activities for our members to spread the word about automotive being a great place for women to thrive.
We will also need to ensure women are given the same opportunities as their male peers to access developmental assignments, promotional opportunities, P&L management and leadership roles to ensure they rise to the top of automotive organisations, and we retain a balanced workforce at all levels. We have launched our e-zine "Inspiring", sponsored by Toyota (GB) Plc, to create a grassroots movement that forms a connected super-network of people who want to work together to help every woman reach her best employment destination, and make the industry more inclusive. Subscription to "Inspiring" is free and stretches beyond the membership of the club and is open to all.
The automotive industry of the future will need to be inclusive and an environment where all types of people can thrive, in order to raise the skills challenge. We need to take action now to upskill and reskill our current employees, and reach out to new talent pools to find great people, so that other sectors don't get to them first.
To join the UK Automotive 30% Club Out Reach Network please contact victoria@automotive30club.co.uk
To subscribe to Inspiring click here