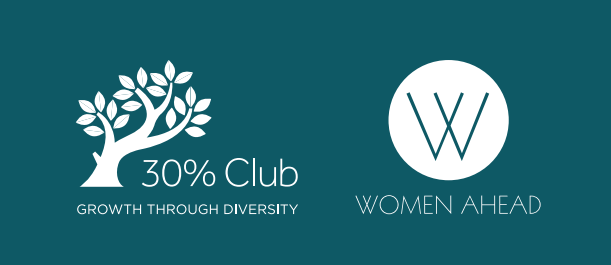 Launching for its eighth consecutive year in November 2020, the 30% Club cross-company mentoring programme is a proven, practical and powerful way to build pipelines and achieve gender diversity at all levels, in addition to providing practical pathways to improve our gender pay gaps and broader diversity and inclusion goals. The programme is delivered by mentoring and diversity experts at Women Ahead.
You can read more about the programme, including benefits for mentors, mentees and organisations, key dates and full costs in a programme overview document here.
Contact rebecca.davies@moving-ahead.org to hear more about the programme, hear how other organisations have benefited, and how they have selected, invited and nominated mentors and mentees for participation.
Benefits for organisations taking part
Join a growing, vibrant community of 160+ organisations committed to gender diversity.
Develop your leaders skills, knowledge and confidence through real, human relationships, with built-in accountability.
Make gender diversity issues tangible for mentors, turning them into advocates and facilitators of wider cultural change.
It's a tried, tested and read- made programme that Women Ahead make easy for you to set up and implement internally.
"95% of participants say the programme gave them a fresh perspective"

"74% of participants rated their match as excellent"
Our Horizon cohort
Horizon is the global extension of the 30% Club cross-company mentoring programme, specially designed and delivered online to help organisations expand beyond their London or UK cohort and include global colleagues. In 2019 over 100 mentoring pairs took part in virtual mentoring partnership across 30 countries.
Case Study: The impact of the programme at Pearson
Pearson was one of the eight organisations to sign up to the first 30% Club cross-company mentoring programme in 2014 and has taken part in the programme each year since. They won the inaugural Dynamic Mentoring Organisation Award in 2016/17.
"Since the programme started in 2014, the gender diversity conversation has only grown. Yes, we want to better equip women within our organisation and give them mentoring opportunities, but we continue to join the programme year after year because we recognise it as such a beneficial tool for developing leadership skills and confidence in both our mentors and mentees, male and female.
It's fantastic to see the programme grow year on year and its reach and profile increase. As that happens, more and more organisations can take part and that's positive for everyone. And it leads to other opportunities, too. We supported Women Ahead's International Women's Day event in March 2019. It was an amazing day, and gave all the organisations involved the chance to positively associate with the strides Women Ahead are making to push the gender diversity debate forward.
"Our people have really grown as a result – in their careers and personally – and many have been promoted."
At Pearson, we are always looking to invest in staff, and the programme has been a gateway for us to take a broader look at mentoring, to measure the positive impact it's having and develop other internal programmes and approaches. But what really stands out about the 30% Club programme is its cross-company nature. The perspective our participants gain from being matched with someone from outside their organisation – outside their industry, even – really enhances the opportunity for growth.
"This programme is the bottom-up way of tackling issues and creating real change. It can only enhance your reputation."
Did you know?
This is the world's largest cross-company mentoring programme, with an alumnus of more than 8,000 mentors and mentees.
Your organisation does not have to be a member of the 30% Club to participate, however, 30% Club member organisations do benefit from special rates.
Many HMT Women in Finance Charter signatories are using this scheme as a practical and proven deliverable to achieve their gender aspirations.
Jardine Motors were the first automotive organisation to take part, followed closely by Volkswagen Group. The latter went on to sponsor (via Audi Australia) the launch of a cross-company mentoring programme in Australia which launches annually in June each year. Talk to Women Ahead to learn more.
30% Club mentoring organisations can benefit from special event access and discounts such as this year's Gender Balance Summit in celebration of International Women's Day. You can watch a montage of our 2019 International Women's Day event if you click here.