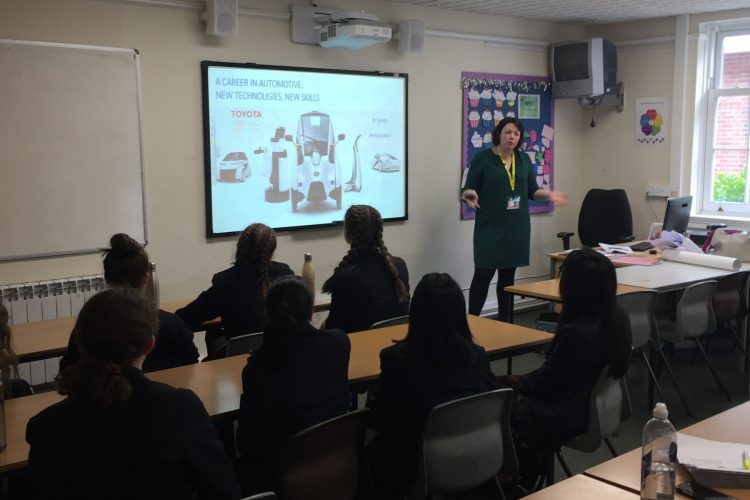 Toyota (GB) PLC support the Automotive Thirty Percent Club, which was founded in 2016 by Julia Muir, CEO of Gaia Innovation, with our mutual aim of achieving a better gender balance across the sector.
An important part of their strategy is to 'Reach Out' to attract more women into the automotive industry. Therefore, we were excited to volunteer our time and to be involved in their Inspiring Automotive Women Day initiative, where Carla Henson, Emma Johnson, Jo Tombs and Jenny Justice visited two local schools, with the aim to encourage women into the automotive industry.
What we did
On the 18th June, Carla Henson and Emma Johnson visited Epsom & Ewell School and Jo Tombs and Jenny Justice visited Rosebery School for Girls, which are located close to our offices in Burgh Heath, near Epsom Surrey.
What we covered
We took groups of around 30 young women through the background of Toyota (GB) PLC and the exciting future the company has to come. We also talked through our individual career journeys and the roles and opportunities available, as well as the skills that would enable people to be a success in automotive, such as ambition, creativity and enthusiasm.
Our Experience's
Carla –
"It was fantastic to share my career journey and to highlight how the automotive industry has such a breadth of roles available whatever your skills and interest. It was also great to talk about how the support and development that I have received from Toyota (GB) PLC has enabled me to grow. I really hope that our talk gave some inspiration to the next generation with the choices they will start to make in their careers."
Emma –
"What a brilliant morning at work! Carla and I met a group of inspiring young women who had a number of inquisitive questions about all aspects of the industry. This really demonstrated how much variety there is and how future technology is only going to make it more exciting. It was also a great opportunity to share the Toyota story and hopefully serve as role models for the students as they consider their career."
Jo –
"As an alumni of Rosebery School myself, it was great to go back and talk to current students about opportunities and areas they weren't aware existed within the Automotive industry. We received some really insightful questions relating to technological innovations and environmental challenges, which demonstrated how connected and interested these young women were – we definitely want them in Automotive in the future!"
Jenny –
"A thoroughly enjoyable session: I can only hope that we have managed to impart some useful insight into the wide variety of exciting opportunities in the Motor Industry/Toyota and demonstrate that there's not just one route in (Jo and I have had very different careers to working alongside each other)."
What they said
The students gave us some great feedback about what they got from the session, saying they felt more enlightened and informed about the car industry and that they found the talks exciting and interesting.
Summary
We all thoroughly enjoyed being part of this initiative, helping to make a difference to other young women's lives through their career choices and highlighting the importance of women working together to help other women.
#InspireAndBeInspired
#thenextgeneration
#automotivecareers