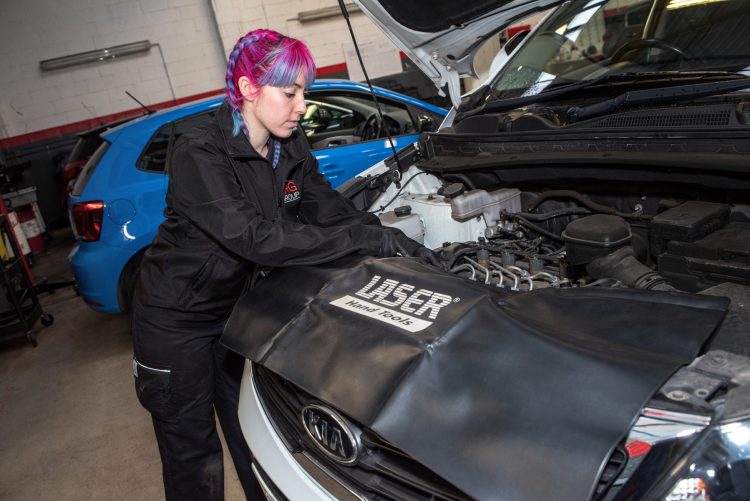 In the lead up to National Apprenticeship Week, Kia Motors is championing its award-winning training programme and apprenticeship scheme by profiling some of their brightest young talent.
The Kia Apprenticeship Programme is now in its 14th year and continues to provide learners with an excellent platform for a career in the motor industry. Having a Kia apprentice is a minimum requirement for Kia's dealer network and is an ideal way to ensure that they have future aftersales capacity in place to meet the needs of their rapidly growing customer base.
Kia currently has 206 apprentices in its dealer network, offering nationally recognised qualifications in the following areas: Light Vehicle Technician, Service Advisor, Parts Advisor and Combined Service and Parts Advisor.
Once completing their course, apprentices are generally retained as highly skilled and productive team members by their dealerships. In fact, Kia's most recent internal competition, the 'Service Skills World Cup' saw both their gold and bronze awards won by former Kia apprentices. The idea behind the scheme is to provide the dealer network with Kia trained Technicians, Service Advisors and Parts Advisors to increase capacity for the future.
Below is Mercedes story…
Name: Mercedes Lopez
Age: 28
Location: Bury, Lancashire
I grew up a mechanic's daughter, my dad works for the RAC and was always taking me to the Moto GP when I was a kid – I've always been around cars, but I've never really seen it as a job, it's what I do for fun.
When I left school, I spent a lot of time in jobs I didn't enjoy – I worked for a fancy-dress company, I was a Subway 'Sandwich Artist' amongst other things. At 16 you have no idea what you want to do, so I think it's quite unfair that some of the biggest decisions of your life are made here. When I look back I don't think we were really taught about apprenticeships – all emphasis was put on being strong academically. I was always really good at languages, so I went on to do Spanish at University but ended up dropping out because I didn't really think the course played to my strengths.
I decided after a bit that I would go back to college part time in order to complete my level 2 Light Vehicle Maintenance qualification. The course was okay but it pretty much all took place inside a classroom and I didn't really get any experience in the field.
I applied for apprenticeships with a number of car manufacturers and was met with some reservations. Firstly, I was a woman in a hugely male-dominated industry, so people didn't take me too seriously. Secondly, I was 27 at the time, and the government offers less funding for over-18's, so that was definitely a barrier too.  I could have gone on to do my 'Level 3 Light Maintenance' course at college, but would have had to fund it myself, and for no real guaranteed career path, I just didn't feel like it was worth it.
After a while I stumbled upon a listing for an apprentice role within my local Kia dealership, RRG Bury. I went down to meet the aftersales manager who I got on really well with. They gave me a trial week almost straight away and then offered me the apprenticeship by the end of it. It's cool there – they literally treat me like one of the lads – they don't cut me any slack because I'm a woman and I love that.
In terms of my role, I'm just finishing my first year, where I've mostly been doing a lot of servicing but also warranty work and generally getting under the hood of cars. Alongside working in the garage, I also go to college, where I'm pretty much the only female and more than often the oldest person in the room. I feel like they trust me to work autonomously quite regularly, which is a big testament to Kia and how they choose to nurture their apprentices.
My dad, being a mechanic himself, is really proud of my work, my friends are too and are always asking me questions about my job. Me and my sister both have pretty cool jobs actually. She's a scientist, so we're a bit of double act when we go out, always impressing people with our diverse skillset.
In terms of my future – I would love to continue working for Kia. I feel like they put a lot into their apprentices, they treat us like family here and there's such a positive vibe whenever I'm with other apprentices, trainers and people from Kia HQ. It would definitely make sense for me to continue working for Kia with all of the opportunities we're given – the training programme was recently rated the best in the country and I can see why.