Overview of activities:

Our 'A Day in Their Shoes' campaign won an Award of Excellence in the 'Best Campaign' category in a competition run by the Institute of Internal Communications.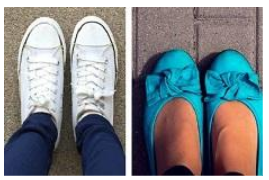 A Day in their Shoes – held in March 2017 to kick off #DrivenWomen in the business
Our 'Day in Their Shoes' event gave everyone the chance to step back and think about the power of having a more diverse workforce, and in particular, how we embrace the concept of gender intelligence across the business.
It was a ground-breaking day which heralded a major shift in the culture across Volkswagen Group.
The day was particularly important for how effectively it engaged men and women from across the Group through speakers, stalls and wide-ranging discussions and it launched our biggest and most ambitious #DrivenWomen campaign.
It was a fantastic opportunity, and openly supported by senior management, to raise awareness of the subject as there are both UK and global ambitions to address our gender imbalance. And importantly to do it in the 'right way' – this is not about positive discrimination but about making sure we have the right candidate lists, the right mindset in recruiters and the right environment to allow people to reach their full potential, regardless of gender or other characteristics.
Penny Burnett, HR Director, explains:
"By 2021 our target is to have 30% of our Board of Management and Head of Business positions filled by women. This is our target but it's still not enough.
"Research shows that you need 30% representation to make a difference and have an impact on decisions made at a high level.
"In the automotive industry, 16% of the workforce is female. In Group we have 42%, so we're already ahead of the curve, but when we look at the breakdown we can see this reduces in higher up positions.
"It's our responsibility to drive ourselves forward and take the opportunities we can," added Penny. "So join me on this journey to make Volkswagen Group an even greater place to work."
The UK Automotive 30% Club

Our keynote speaker was Julia Muir, CEO of Gaia Innovation. She has worked in the car industry for 25 years and launched the UK Automotive 30% Club last year.

A key ambition of the club is its '30 by 30′ strategy, which is all about getting 30% of the key leadership positions to be filled by women in 2030. "It's the right thing from a business point of view," said Julia.

 "I started the club," she continued, "because after going into schools and talking to girls, it seems like we've almost gone backwards in their confidence to rise up in the ranks in what are perceived as male-dominated industries."
Reversing the rules on mentoring – a new initiative which started at the end of January 2017

Last year, Volkswagen Group UK trialled an exciting project where people from our student programme became mentors to leaders from the business.
In our pilot, ten Heads of Business and line managers paired up with ten undergraduates and graduates for six months.
The idea behind 'reverse mentoring' is to create more opportunities for gaining new perspectives and a two-way sharing of knowledge. For example, mentees might learn new things about the latest digital trends from their mentor, while the mentor finds out more about strategy and best practice in the industry. The focus of our pilot was on key topic areas such as social media, technology, digital, team recognition, flexible working and customer viewpoints and preferences.
There was such a positive response from the people on the pilot that we're now rolling the initiative out more widely and actively looking for people to take part.
Executive Shadowing: August 2017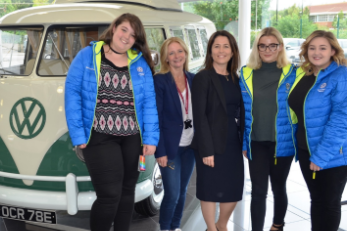 Volkswagen Group UK opened its doors to three new female rising stars, to show them the breadth of opportunities available in the Group and automotive industry, and encourage more girls to consider a career in the sector.
The three girls (aged 17) from local schools in Milton Keynes were selected for the Executive Job Shadowing programme following visits to their schools by members of the Volkswagen Group's Board of Management earlier in the summer.
The three girls had the opportunity to spend a week in the company's head office in Milton Keynes and experience five 'days in the life' of an executive. Here they learnt about the different roles available within the organisation and had the chance to really see what it's really like to work in the Group. They also visited the Group's National Learning Centre in Milton Keynes, Customer Services Centre in Leeds, the Audi Centre in Wakefield and a marketing agency to see how these enterprises work together with head office.
Commenting on her week, Bethan, an A-Level student from St Paul's Catholic School, said: 'I really loved the work experience placement. I had a lot of fun discovering the different roles in the Volkswagen Group. Everyone was so friendly, helpful and enthusiastic. It has really inspired me to consider properly a career in the automotive industry and to encourage other women to do the same.'
Sponsorship Programme: Started Autumn 2018
Learning from Sky, a beacon of best practice in the gender balance arena, we have instigated a Sponsorship programme. We started by identifying 20 women in senior management to match up with members of our Board of Management.
In essence, it's about levelling the playing field to ensure that all our best people are encouraged to take that next step themselves and creating an environment where our most able candidates are supported and encouraged.
Up to a certain level, men and women are represented equally. We have an equal balance up to a certain job grade, but higher up it drops away. The fact is, women are less likely to apply for higher-level roles – for a variety of complex reasons – so it's not surprising that the majority of senior managers are men. The Sponsorship Programme is helping to ensure we have the broadest field of candidates applying for roles.
Source: Volkswagen Group UK