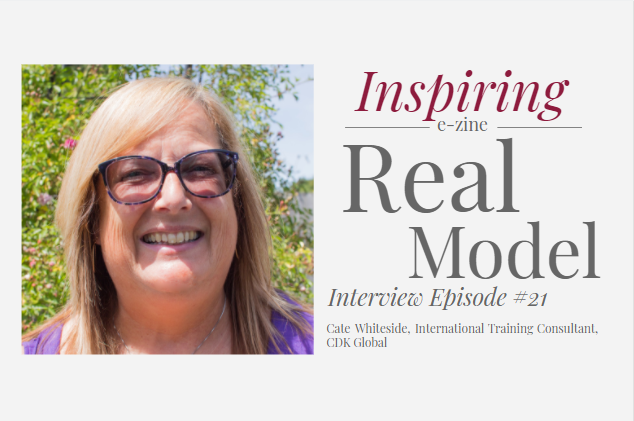 Describe a typical working day?
This is the one thing I love about my job as my role is made up of so many elements making the days unlikely to be typical.  One day I may be designing a new training course, I might be jumping on a plane to a country I have not visited before, or I may be stood up in front of a class of associates where hopefully I am making learning our products and processes fun for them.  Of course, this has taken on a new aspect now that I am also having to include distance learning, using online tools and the structural changes that have involved. I am constantly learning myself. I need to keep up with changes to our products, changes to the industry that we work with, changes within my own company including the new tools that are introduced.
I am a home worker as I live about 2 hours away from our UK head office where my line manager is based.  We have been very lucky to continue working productively throughout the Covid-19 pandemic.  In fact, we have been busier than usual because prior to the lockdown the classroom was our training delivery default.  We do have initial eLearning as part of a blended learning approach but access to a dummy live system has mostly been carried out in person.  As a team, we had already identified a need to upskill in terms of how classroom training online differs from being physically in the classroom so were already booked for training with a 3rd party provider of training to trainers.  It couldn't come soon enough as the minute we were grounded we turned to developing online versions of our classroom material as well as creating and delivering 30 minute webinars on helpful topics.  Our associates who were also not travelling were looking to upskill while they were not as productive and we are always keen to help them with that.
My main objective of today is designing a 2 hour course to be delivered online on the subject of 'How to sell a part' using our Autoline Rev 8 product. This is already a module of a Parts Advisor classroom course but online I need to ensure I can engage the audience.  A day in the classroom will now be split into modules and I will also be setting homework. Training online takes longer we have discovered.  I will be using questions but also asking them to annotate or press the thumbs up button to keep checking I have my delegate's attention. I need to be very aware that non-verbal clues my delegates may be displaying are probably not as obvious as when I am not in front of them.  My delegates are associates across the globe and for some their English is not their first language. The words I use need to be clear and simple. I must build in lots of informal testing that the message I am giving is understood in the correct context.  The people I am training are generally very intelligent but just have not got hands on knowledge of the automotive industry or our product.  So my product training is not just how to use the system, it is also about the context of how the dealerships use it.  This may well vary by market, country and even manufacturer. Once I complete this one module I will use some aspects for the next but also need to keep things different to keep the engagement levels up.  The messages learners are most likely to retain are those at the beginning, the end and any that are delivered in a surprising almost shocking way.
How long have you worked in the sector?
Nearly 25 years ago I started work at a local motor group as their Marketing Information Manager. The last 7 years I have been in this role at CDK Global
What inspired you to join the motor trade?
I will confess that joining the motor trade was not a deliberate choice as such.  I used to work in the Financial Services Industry and had been made redundant.  I had transferrable skills, in particular, being PC literate and good at working with data. I obviously sold myself well on my CV and covering letter as I very quickly found myself working in the motor trade.  After that, I was hooked on the software I was using and enjoyed the relationship I had with the software provider (Kerridge/ADP/CDK).  I realised my IT skills outweighed working with the data I could pull out of the system and moved into roles where I was supporting the use of the software and installing it in new locations of the groups I worked with.  Eventually, a chance came up for me to join CDK Global in the International Training Team.  I'm a step away from the motor trade now but it is still very close to my current role.
What are your future aspirations?
I should possibly be looking forward to retirement but I enjoy my role so much I am happy that I still have a quite a few years left before I will consider that.  Career wise I want to continue adding to my skill set with regards Training.  I have already set a personal development goal to gain more Training Accreditations this year.  I also like to add a few new countries to my travel map.  I'm not so sure that will happen this year but we'll see.
What did you want to be growing up?
I don't remember ever knowing what I wanted to be when I grow up.  I grew up in the shadow of an older more studious brother.  The subjects I studied matched his because it seemed to work for him and I thought he'd be able to help me with my homework!  So when I got off the education ladder my initial role was just luck from the applications I made.  As far as I am concerned I may not necessarily be at the end of my career journey.  I take each day as it comes and jump at opportunities to expand my skill set.  To my kids, I say work in a job that you enjoy.  Yes, we all have a day when we would prefer not to get up when the alarm goes off but in the main I want them to look forward to their day ahead like I do.
What is your worst trait?
Getting sidetracked!  Just like I have been answering these questions.  I try to write a little list of what I want to achieve each day to keep my focus in check.
What would you consider as your greatest achievement?
When I took this role I was not a confident traveller internationally.  I had never been abroad on my own.  It was the element that nearly had me turn down the job offer.  The fact that I was bold enough to take that leap is a personal achievement.  Building the relationships I have is great and every time I am approached for my help or advice I feel really proud that I am considered worthy of being consulted.
What single thing would improve the quality of your life?
Getting the right work / home life balance is very important.  Because I sometimes work outside of my contracted hours either with the physical travel or just the weekends away from home it does impact on my home life.  I compensate in silly ways like making sandwiches for my 19 year old son's lunchbox when I am home as I am not there to always cook his dinner.  I don't want to not travel and he probably enjoys me not being home all the time too.  So if I could be cloned that might make things easier!  It might help when I get sidetracked too.
Where would you most like to be right now?
It is well known in my department that I have loved visiting India with work.  I was due to visit 3 times in 2020 but now it is unlikely I will even make one visit.  Aside from the fact it is now their rainy season that is where I would like to be.  It is a vibrant country where visitors are made so welcome.  I have made lifelong friends there and have been welcomed into their families.  Just in case this is read by another international associate I must say Thailand follows in close behind India though!
What is the most important lesson life has taught you?
Always look for the positive in every circumstance.  There have been tough times in my life but I have somehow managed to keep going and come out stronger.  If you look there is always a positive and you just need to make that dominant.