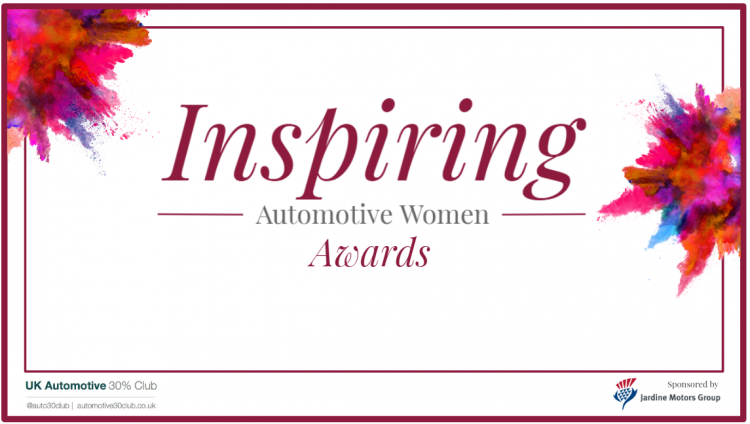 Over the past 3 years the UK Automotive 30% Club has grown considerably, and now proudly has 27 (and growing monthly) committed Manufacturer, Retailer and Supplier Automotive CEO / MD members in our network, all with the same shared goal of closing the gender gap and with the aim of achieving at least 30% of women in key roles by 2030. 
A big part of reaching our shared goal is recognising women in the automotive industry who are working hard and 'lifting others as they rise'. With this in mind, we are delighted to announce our inaugural Inspiring Automotive Women Awards, proudly sponsored by Jardine Motors Group. The awards ceremony will take place at the Royal Automobile Club in London at a black tie dinner on Thursday 3rd of October 2019.
The Inspiring Automotive Women Awards will show appreciation and recognition for the efforts and contributions of 30 inspiring women from within the UK Automotive 30% Club member companies, and differ from other automotive awards, as any individual can nominate a woman within the UK Automotive 30% Club member companies irrespective of role or seniority, on the basis that they have personally been inspired by them. Winners, therefore, are likely to be working at all levels and all areas of the sector.
Nominations for the Awards will officially open to the public on Tuesday 25th of June and there will be 30 winners with one overall winner who will be announced at the awards ceremony on October 3rd.
Julia Muir, Founder of the UK Automotive 30% Club comments
"I am very excited to be launching these awards and extremely grateful to Jardine Motors Group for their sponsorship. From my first job in an automotive retailer, through my career at Ford Motor Company, and now in my role as the founder of this campaign, I have been surrounded by strong, caring and talented women who have truly inspired me through their resilience, commitment, empathy and humour. I felt it was essential to recognise and celebrate these women who often remain invisible, and show appreciation for the valuable contribution they make to the industry."
Clare Martin, Group HR Director at Jardine Motors Group comments
"It's really important that we celebrate the talented women that we have in our industry to help create a level playing field with equal opportunities for all, which is why we're supporting the first ever Inspiring Automotive Women awards.  At Jardine Motors, we may have hit the target to have 30% female managers in our business, but there is still much more work to be done both internally and supporting the industry as a whole to drive greater awareness around automotive being a great sector to work in. 

"With such a broad range of roles and career paths available, these awards are a great way to seek out the real role models and tell their stories to help inspire others.  And so, I encourage everyone, don't be afraid to shout about your brilliance by nominating yourself or helping support someone else in their journey by nominating a colleague who inspires you, regardless of role or seniority."
To nominate a woman within our member companies who inspires you, please do so via the Inspiring Automotive Women nominations form here