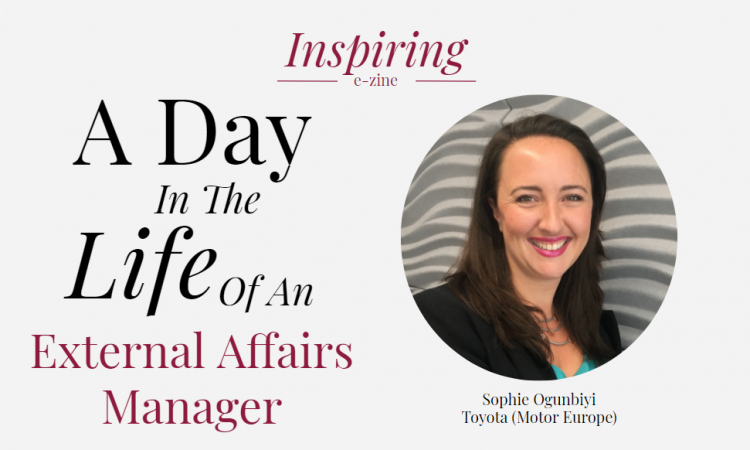 What is your job role and what does it entail?
My role entails working as part of a small team to help manage Toyota's relationship with U.K. national and local government, political and regulatory stakeholders and corporate media, in order to support government regulatory policy as well as support and communicate Toyota's environmental technologies, manufacturing and sales and corporate views.
Please detail a typical working day.
An average day during this very unaverage period of COVID-19 lockdown looks somewhat like this: Early morning allows my husband and I the chance to chat before our daughters (ages 4 and 6) wake up and we embark on working from home and homeschooling. Once we are all dressed and ready it often feels like I've done a full day's work, especially as I am expecting our third child in the coming weeks! Most mornings we take breakfast together and set the girls their first learning activity whilst we have them fresh and captive at the table! I will check and respond to emails and read the news headlines before I join the daily catch-up meeting with my direct team and we align priorities.
My role is demanding and as well as being very proactive I have to be prepared to respond reactively…on any given day I can be faced with multiple new unexpected requests and projects so I am always prepared for the need to be adaptable and organised.
Each morning, I will usually find myself reporting on key political announcements or policy developments of the day, seeking input from across the business or from our stakeholders and preparing multiple responses into key government consultations and industry submissions, and advising the wider business on a multitude of issues covering environmental, manufacturing and skills related regulation through to vehicle technology roadmaps, issues relating to sustainability and future regulatory strategies. This can involve devising our own business responses as well as feeding in via key industry stakeholders including the Society of Motor Manufacturers and Traders where for the last 5 years I have been Chair of their Policy Coordination Committee. The Committee helps shape and formulate consensus industry positions on regulatory issues of the day and I do my best to represent the voice of Toyota on a number of key policy issues. I love this element of my job as I enjoy building positive relationships and it challenges me in terms of continuous learning. On a daily basis I will also monitor political and industry developments and prepare reports and intelligence for the business. I will often also find myself simultaneously supporting wider strategic projects, external engagement activities and events that our team is involved in coordinating.
From a media perspective if any corporate press release have been announced I will share these with our journalists when issued, and each day will typically involve managerial oversight of office administrative projects such as health and safety, HR items or GDPR through to office compliance and legal matters, as well as daily line-management, support and mentoring of my direct report.
One of the things I love about my job is the face-to-face interaction my role offers representing Toyota externally, however, like everyone else, I have had to adapt to a new way of engaging virtually so I am usually involved in daily conference calls, meetings and remote round tables. This is a big difference to how I would operate under normal circumstances attending events in Parliament and Westminster, attending international motor shows, and travelling within the UK and abroad for key meetings and European conferences.
Days working from home whilst homeschooling have been very busy, often chaotic but also highly rewarding and precious. The inevitability of homeschooling and home working during lockdown meant that my husband (who works in NHS management) and I have had very little downtime. Between meetings and calls, we set the girls up with school learning, play and craft activities and the never-ending cycle of feeding them constantly! By the end of the working day (which varies but tends to be around the time our children demand being fed again) I will be straight into tidying up their mess with them (my least favourite daily activity); preparing and enjoying a home-cooked family dinner; after which we sometimes have time for a family walk in order to decompress. We usually try to put the girls to bed by about 8 pm (but rarely succeed!) after which my husband and I will be lucky to get an hour or more together to muse over the news of the day, sit in the garden to chat, chill-out, star-gaze and gratefully appreciate the day that has passed, including its challenges. Each and every day is precious and we don't take anything for granted.
Would you encourage more women to undertake a job role similar to yours and if so why?
I would encourage more women into the role of politics and regulation within the automotive sector as I have found my role to be highly interesting and rewarding with great opportunities for wider business exposure and political insight. Working in the field of politics, automotive and manufacturing is still predominantly male-dominated, however, I have found Toyota to be a supportive and encouraging company where I have met many wonderful and inspiring men and women who strive to support, champion and encourage each other and raise the profile of women within the sector, which is so critical to overcoming the barriers that are systematically being addressed and overcome.