I recently had the pleasure of co hosting an executive round table discussion, kindly sponsored by Salesforce, with the aim of exploring the issues of gender balance and inclusive leadership within the automotive industry. We discussed the business benefits of gender balance and the automotive sector's approach to inclusion, our image and reputation, and also identified realistic opportunities for action to make the automotive sector a career destination of choice for a greater number of women.
My co host for the invitation-only session was Jessica Geutner VP Strategic Customers Salesforce, and in attendance were industry leaders Rawdon Glover MD JLR UK, Martin Forbes CEO Cox Automotive, and Automotive 30% Club Patrons Catherine Faiers COO Auto Trader and Daksh Gupta CEO Marshall Motors Holdings.
It was agreed that although there was lots of information available that explains the business benefits of gender balanced leadership teams, the business case hadn't actually been fully understood by many in the sector and more needed to be done to make leaders fully aware. It was suggested that although very few would argue against the need to have better female representation, only a small number of leaders are actively involved in addressing the problem as a true business priority because they know it leads to better performance. 
It was discussed that the industry has a laddish, macho image which is actually not reflective of some of the progressive companies within it, and it was felt a refusal to change this culture, or simply a reluctance to be vocal and visible by the leaders of some organisations about the necessary changes being made, reflects negatively on the sector as a whole and could put women off from viewing it as an attractive career. It was acknowledged that automotive events such as awards dinners serve to symbolise the "middle aged men" image, that is so different to the diverse audience of events in other sectors.
It was suggested that many more influential leaders need to add their voices to the campaign and make public the action being taken in their companies. All have a role to play in helping to redefine the image of the sector to help to attract and retain talented people. It was also recommended that women in the industry are made more visible to the wider public, and more people of varying levels in inclusive automotive organisations should be given platforms to speak about the benefits of working in gender balanced diverse teams. 
It was expressed that treating everyone fairly often means treating people differently; it is important to ensure equitable rather than simply equal treatment. In this way, extra barriers that some women face must be removed, and all employees must be helped to reach their full potential because that drives superior business success.
The need for collecting and using people analytics data to drive a long term gender balance and inclusion plan was discussed. It was suggested that many companies are not examining their data to identify priorities and solutions, or benchmark performance against other organisations.  Some however are using external experts to undertake inclusion audits and to assist with data analytics and diagnosis, and help design a plan to become more inclusive.  KPIs and targets work when they are long term because they give a focus, enable prioritisation, and progress to be measured and benchmarked. Employee engagement surveys should be disaggregated by gender to identify if there are any specific issues, positive or negative,  being raised by either sex.  More needs to be done to encourage businesses to collect gender balance and inclusion data and use it effectively.
It was acknowledged that for many companies with a legacy of a predominantly male workforce, improving female representation was a significant challenge. It is not enough to simply have ambition, there are significant obstacles to overcome. It was recognised that it is a long term commitment that needed sufficient resources dedicated to it to make it happen and that building the internal female talent pipeline and making the environment one in which women will thrive and progress was critical.  Maternity leave, paternity leave and shared parental leave policies, as well as remote and flexible working policies, and sponsoring, mentoring and career planning processes should be reviewed with the aim to help women fulfil their career potential and also men to fulfil their potential as joint or primary carers for their children.  The fact that it takes time to build gender balanced teams and ensure parenthood does not detrimentally affect career progress, makes a compelling reason for starting now without further delay.  
It was raised that the gender imbalance is more acute above junior levels. There is of course a legacy reason for this; the emphasis on a balance between male and female entry level recruits is relatively recent and fewer women were hired in the past. However, there is also an issue with young women leaving the company before they reach a management role; McKinsey and Company refer to junior management as the "broken rung" on the career ladder that fewer women manage to step over.  It was suggested that there is little information available that points to reasons why women leave companies. There is some available on young women; PWC conducted a study of female millennials in 2015 and found the top five reasons that young women then aged 25 to 40 left their roles. Number one was not enough opportunities for career progression; followed by the work not being interesting and meaningful enough; insufficient learning and development opportunities; better pay; and an imbalance between work effort and compensation. So these young women were not citing family or work life balance issues, they seem to be pointing to a lack of appreciation and recognition, the gender pay gap, and the lack of stretch assignments and promotion prospects. 
This was echoed in the recent Deloitte Women at the Wheel survey that revealed a shocking 40% of female respondents working in the automotive sector would not choose automotive if they were starting their career again, and 50% of women would leave the automotive industry due to lack of promotion opportunities, organisational cultural norms, poor work-life balance and an uncertain industry future. 57% of the women do not see a career path to get to the level they want in the auto industry. So companies must check if they are promoting men and women proportionately, and ensure women are being given the assignments that lead to higher visibility and the chance to prove their competence and talent. The industry must question the emphasis placed on experience and "time-served" rather than proven competence and expertise, that some high performing women could have perfected in a very short time. 
PWC also found that within their own organisation a key contributor to the gender imbalance was the tendency to replace women leavers with male external hires.  There was a belief, exacerbated by recruitment agencies, that there were few women with the right skills available. However, once they identified hiring female managers was a priority they put the necessary energy into finding them and have significantly improved their gender balance. The belief that there are "no women out there" must be challenged and insisting on gender balanced short-lists is a good place to start. The traditional "recycling" of poor performers who move around the sector, due to an emphasis on years worked and roles occupied rather than evidence of actual performance, must stop.
The group discussed the higher level of peer support for women that takes place within an inclusive company as opposed to one with a more autocratic culture. In an inclusive culture, there are many people to turn to for help or advice, and who actively offer support to ensure the team performs well, whereas in a more traditional company fewer people are willing to help an individual to find solutions or fulfil their personal potential, and this is to the detriment of the wider organisation.  It was recommended that one of the key actions to take to build an inclusive culture is to establish networks for underrepresented employees, such as women, BAME and LGBT. Best practice is to ensure that these networks have a strategic purpose to address inclusion and have a direct route to the board to ensure the outputs are listened to and actioned.   
It was also recommended that all employees promoted to management positions should undergo inclusive leadership training, an element of which will raise their awareness of unconscious bias and the unearned advantages that some people have over others as a result. 
Another key action is to change some of the remuneration and working practices of the operational jobs in the sector that are on the career route to the top, such as sales roles. A lot of the image of the sector in the mind of the customer is set by these roles, and the type of person willing to take the risk and work for a very low basic may not display the team collaboration and customer oriented behaviours that are essential for business success, and to be a high performing senior manager. Evidence points to attracting more women into sales where the basic is high and recognition is based on a positive and helpful attitude and customer service indicators.   
We know businesses with a better gender balance are more successful, and employing more women in senior roles boosts financial performance for individual firms and the national and global economies. There is much evidence of this and every gender equality seminar and conference opens with citations to support it. It's not about a battle of the sexes, but an understanding of the benefits of balance; women and men working together achieve better results due to the different but complementary qualities and perspectives they bring, whether through nature or nurture and combine to make better decisions.
In summary we must work together to implement six steps to success:
Analyse gender data and plan for progress

Reach out to new female talent pools

Recalibrate the organisations for inclusion

Recruit women equitably without prejudice and bias

Pull women through the promotional pipeline

Hold on to the investment and retain female talent
More leaders must act to build inclusive automotive organisations where women can thrive, and raise awareness of the business case.  Initiatives such as the Automotive 30% Club, the Inspiring Super-Network, Women with Drive, Women at the Wheel, the Inspiring Automotive Women Awards, Barbara Cox Award, and the Great Women in British Automotive Awards have gained momentum across the industry and have put this all important topic high on the agenda. A growing number of businesses are now on their journey to achieving a greater gender balance and inclusivity within their organisation. We have to remember we all have an important role to play in helping the industry redefine itself as 21st century employers of choice, and in recognition of this more will be done to build the Automotive 30% Club into an action oriented network, strengthening relationships and sharing best practice between members. The most impactful way to achieve change is for the leaders of the sector to collaborate and stand together to change the game.
Article written by Julia Muir, CEO Gaia Innovation, Founder Automotive 30% Club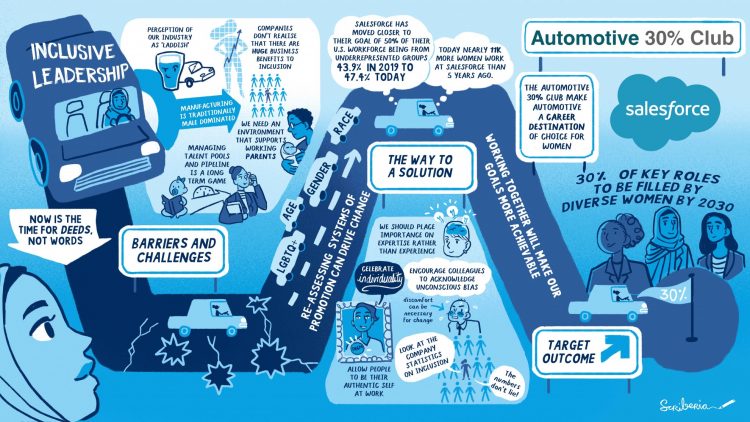 Scriberia image, courtesy of Salesforce