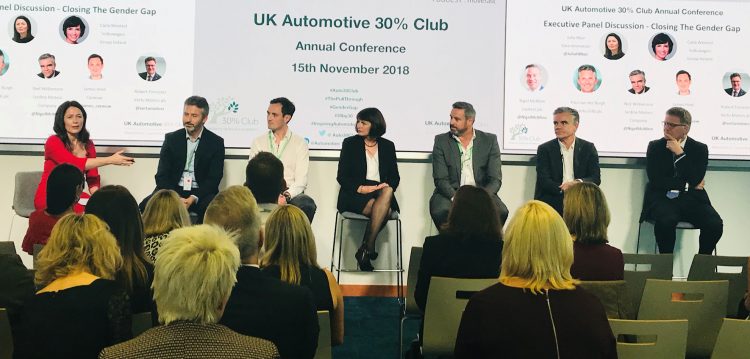 On November 15th 2018 we held our third UK Automotive 30% Club Annual Conference in the amazing London offices of our friends at Facebook UK. 
Previous conferences had a strong focus on how to reach out to attract more women to join the sector, and so the theme for the conference this year moved on to discussions around the all important topic of how we ensure we create an environment within which women can thrive, and help women to rise through the career pipeline by removing obstacles to their progression.
In 1968 the Ford Motor Company Dagenham sewing machinists first made a claim to have their skills and contributions recognised as equal to men, so laying the foundation for the Equal Pay Act of 1970. Fifty years later, we opened the conference with some great insight, advice and guidance from our panel of HR experts (Alison Ross from AutoTrader, Penny Burnett from VW Group UK, Clare Martin from Jardine Motor Group and Fiona Mullan from Facebook) with regards to how to address the gender pay gap. It was concluded that the gender pay gap will only close when there is a better gender balance across the levels of the business all the way to the top, and across occupations that currently have a high degree of segregation. It was noted that executive recruitment firms have an important role to play in ensuring women hired into companies at senior levels are paid fairly and equitably.
We then showcased two excellent providers that could be engaged to assist with creating a level playing field for male and female executives. Julia Philpott from JP Consulting shared with us some of the research evidence that proves there is bias that leads to different expectations of men versus women, such as looking for evidence of past performance rather than potential more often in women than men, and so women often find themselves having to  "prove it again" before getting the remuneration and recognition they deserve. Julia recommends professional personal coaching for women in small groups, through which their awareness is raised of such issues, and techniques to overcome the challenges are shared.
We then experienced a brief but fun immersion into the world of acting through RADA trainer Sarah Blumenau, in order to learn how to be aware of body language and voice to create a commanding executive presence. RADA provide training to senior business executives across the world, and Sarah shared elements of their Leading Lady Masterclass programme with the audience.
Fiona Mullan from Facebook gave us an interesting glimpse into the HR policies and processes in the tech giant, revealing a similar challenge in terms of hiring and retaining women into operational roles, but demonstrating perhaps more progressive solutions than are the norm in the automotive sector such as the culture of bringing your whole authentic self to work, and a company wide flexible working pattern.    
We were treated to the fascinating personal story of Carla Wentzel as she rose through the ranks of the automotive industry in the unique context of South Africa to her current role as the MD of VW Group Ireland, and we heard that you can get to the top even without a mentor or sponsor, and despite others saying it would not be possible for a woman to succeed.   
Nicola Mendelsohn, another very inspiring woman, told us her story of reaching the top of the advertising world before joining Facebook as VP for Europe, Middle East and Africa.We learned how important networks such as the 30% Club are as a force for good and a way of creating a supportive community, and Nicola shared how she turned to a Facebook group of fellow sufferers of the rare form of terminal cancer she is battling with. She demonstrated such courage and resilience.  
This resilience was echoed by Brenda Trenowden, Chair of the Global 30% Club who has also been fighting a rare form of cancer. We heard how she manages to dedicate time to leading the 30% campaign before and after work, as well as perform her duties as the Head of FIG at ANZ bank, and have some time left for her family at the end of the day. She urged our audience to be "named and famed" by publicly supporting the campaign to have 30% of board roles filled by women by 2020.
I was very pleased to be able to announce our UK Automotive 30% Club sponsors for 2019 will be AutoTrader, and they will bring much-needed funding to ensure we can scale up and provide added value to our members. It is also great that VW Group UK will again this year sponsor the Inspiring Automotive Women Day, and Jardine Motor Group with continue to support us by sponsoring our new Inspiring Automotive Women Awards. Toyota GB will this year be sponsoring the Inspiring Automotive Women Advice and Guidance.
The conference ended with the fabulous and entertaining business coach Lisa McCarthy of the Fast Forward Group showing us how to develop a bold vision for our businesses, including creating an inclusive culture for all to thrive. 
My bold vision is that the UK Automotive 30% Club becomes the catalyst that enables change to happen; that our members will become the employers of choice for women, that by 2030 the women of the industry will be able to reach their best employment destination without being held back by invisible obstacles, and that automotive workplaces will become true inclusive meritocracies within which diverse people will thrive at all levels.
Julia Muir