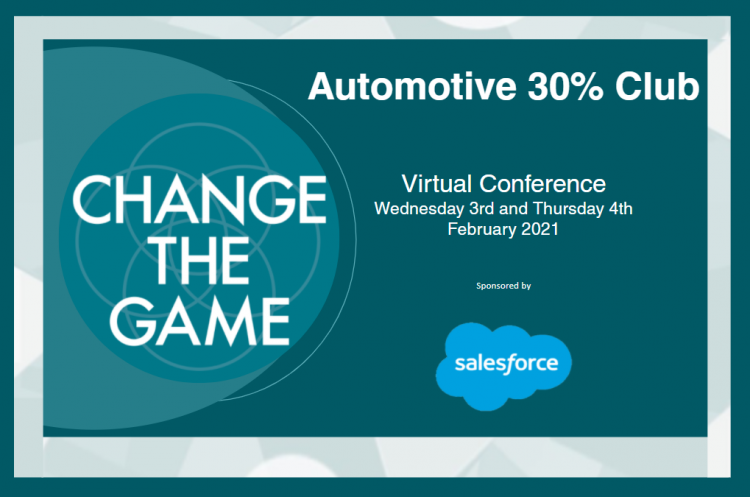 As 'in-person' events rapidly become a thing of the past (for now anyway!) The Automotive 30% Club confirms their annual conference will be held 'virtually' on February 3rd and 4th 2021 and is extremely proud to announce Salesforce, the multinational technology corporation, as their sponsor.
The overall theme of this year's conference is "Change the Game" and encourages the Club's membership to view gender balance as an important objective of a game changing leader who creates an inclusive culture to achieve better business results. It aligns with Automotive 30% Club Founder Julia Muir's upcoming book titled 'Change the Game: The Leader's Route Map to a Winning-Gender Balanced Business' and will aim to inspire Club members to act now, and inform them how to get started. All club members will receive a free copy of the book to accompany the digital event.
The conference will run over two half days and will include live panel sessions, guest speakers, executive discussions, a range of masterclasses, live Q&As, networking sessions and much more!
In addition to the conference, Salesforce will also be sponsoring three closed virtual executive round table discussions which support this topic and will build on the themes within it, two of which will be hosted prior to the conference in November and January. The first session is titled  "Inclusive Leadership – Now Is The Time For Deeds Not Words". It will be a full and frank discussion between some of the top leaders of the industry about the automotive sector's approach to inclusion, our image and reputation, and also realistically identify opportunities for action as well as barriers to implementation. 
Following the conference, the Club's third executive round table discussion will be hosted mid February whereby the panel will be discussing their actions to be a game changer and how to leave a lasting legacy.
Participants in the conference already confirmed include Kristian Elvefors MD of Volvo Car UK, Dr Astrid Fontaine VP Member of the Board – People, Digitalisation and IT, Bentley Motors, Alex Smith MD VW Group UK, Robert Forrester CEO Vertu, Daksh Gupta CEO Marshall Motor Group, Nathan Coe CEO Auto Trader, Catherine Faiers COO Auto Trader, Stuart Miles MD CDK Global UK&I, Angela Shepherd CEO Mercedes-Benz Retail Group, James Brearley CEO Inchcape and Paula Cooper Director ConsumerOne Toyota GB Plc.
Gaia Innovation CEO and Automotive 30% Club Founder Julia Muir comments:
"We have entered a period of unprecedented economic turmoil with many threats facing the automotive sector, yet also many opportunities in the form of technological advancements and substitutional consumer spending.  Now more than ever it is essential to optimise the performance and productivity of our teams, and create gender-balanced businesses that thrive and outperform the competition, and I am very proud that our sponsor this year for the conference and executive roundtable discussions is Salesforce; an extremely inclusive and values driven organisation. Together we will encourage, inform and give practical tips to those who know they must act to change the game now, and want to know how."
To keep up to date with regular updates including speakers and registration links to all of the above sessions, head over to https://www.automotive30club.co.uk/automotive-30-clubs-virtual-conference
Change the Game – a Leaders Route Map to a Winning Gender Balanced Business by Julia Muir and from Practical Inspiration Publishing will be available in all good bookstores on March 9th 2021.