I recently co hosted an executive round table discussion, kindly sponsored by Salesforce, with the aim of exploring the issues of gender balance and inclusive leadership within the automotive industry.
My co host for the invitation-only session was Jessica Geutner VP Strategic Customers Salesforce, and in attendance were Mark Raban CEO Lookers, Stuart Foulds CEO TrustFord, Steven Eagell CEO Steven Eagell Group, and Daksh Gupta CEO Marshall Motors Holdings.
Our conversation focused on the inclusive culture required to tap into the business benefits of gender balance, and the frank, open and wide ranging discussion included effective leadership, appropriate language and behaviour, remuneration policies, working practices and the importance of disaggregating employee and customer satisfaction data by sex.
It was discussed that culture is at the heart of a business' success or troubles. It's very important for a leader to identify what the values of the company are, with a plan of how to deliver them, and that it's the personal responsibility of the CEO and the management team to drive the cultural change and work on the core DNA of the business. The person at the top is responsible for clearly indicating what's acceptable and what's not, and demonstrating professional behaviour, because with power comes responsibility to root out bad behaviour.
We talked about the role of language in reflecting the culture, and the kind of language leaders use. We shared examples of inappropriate terms like calling women 'girls' which puts them in an inferior or vulnerable position versus men, or inappropriate terms for people of colour. It was raised that language that was used in the past is not acceptable today and it was acknowledged that although it's not easy, leaders have a responsibility to keep themselves informed and up to date about the right language to use to describe people.
It was suggested that for many companies the issue of gender balance is on the agenda, but many aren't doing enough to get to the root causes and tackle the issues that lead to low female representation, and this has to be done to be able to tap into the skills of women and also engage with female customers. It was noted that people in the sector still expect that sons will take over from owners but don't expect it for daughters. It was agreed that it's difficult to attract women, particularly into sales, but there are also challenges in retaining them and there are barriers to them progressing.
I shared that studies have found a key reason for women leaving was a lack of career opportunities and a lack of recognition of their abilities, and explained that a culture that
makes false assumptions about a woman's ambitions or potential, or possibly that damages self esteem and ambition through teasing or banter, can detrimentally affect women's confidence to apply for promotions and could lead to them leaving the sector.
The group felt that there is definitely a momentum for change now, and shared some of the solutions that are effective in increasing female representation. A good practice that leads to more diverse candidates getting through the screening process is redacting gender and ethnicity data from applications so that unconscious bias can't affect their success. We agreed that we need to make sure that our working environments are places where professional women are visible and happy to work, and female customers entering those environments will pick up on that and feel more comfortable than they have in the past. It was noted that the gender balance has always been better in Fleet sales, and more women are taking up digital sales roles, but the challenge remains to get a better gender balance in showroom sales.
A factor to explore is whether the physical proximity of the customer during negotiation, instead of on a phone or video call is a key issue, and also the different remuneration
schemes used. A good practice is to take earnings risk away by removing low basics and extending the guaranteed income period from 3 months to one year at a level of £30,000, and this leads to more women joining showroom sales and more staying in the role and being successful instead of leaving at the six month point. Another CEO agreed that a low basic often breeds the wrong behaviour and encourages extremely long working hours to achieve a decent wage. This practice puts off talented people from applying for roles. It was discussed that the introduction of remote and flexible working due to the pandemic had proven how effective and efficient it can be and that these practices would continue and help to attract more diverse employees.
It was discussed that a very positive sign for the future is that far more women are now applying for places on internal management development programmes than in previous
years and so many more women are joining their male peers in preparing for leadership roles. It was raised that we are finally seeing women reach the top roles in the sector – there were no women running the OEMs or larger dealer groups when the Automotive 30% Club was formed in 2016. More can be done to make sure that women are able to express their career ambitions in a formal process to those more senior than their line manager, and we should not assume that women entering in junior administration roles don't want to switch to more senior or operational roles. It was raised that one way to attract more applications from women for jobs and promotional opportunities is to have female staff write the job adverts and descriptions as though they were speaking to another woman. Studies have shown that this doesn't put male applicants off but it does make women feel the job sounds suitable for them.
It was suggested that we need to look for female recruits further than the usual sources such as job boards, and proactively target them. I explained it's perfectly legal to take action to increase the number of female applicants you have to choose from if you have a gender imbalance eg by holding women only recruitment events, as long as there's no sex discrimination in the recruitment process itself. Aiming for a gender-balanced pool of suitable applicants should lead to a better gender balance in the recruits.
As a result of the shocking murder of Sarah Everard it's been revealed that women are rarely protected in the street or home from violence or sexual harassment by the authorities, and surveys indicate 100% of women are victims, with 53% having suffered at work or place of study. We discussed the power that employers have to enforce the Equality Act of 2010 to eradicate sexual harassment from their workplaces and to ensure all colleagues treat each other with dignity and respect, and understand what that entails. If all business leaders made it clear that inappropriate behaviour would not be tolerated, and put in place disciplinary sanctions, this would have a hugely positive impact on the safety of women in wider society as well as on their ability to stay with companies and continue their careers.
It was shared that it's necessary to make it very clear what is professional behaviour and what's inappropriate, and that a good practice example was using an in house film to show scenarios. It's the responsibility of the collective, the team members, to uphold the professional standards and call out inappropriate behaviour so that it's evident that there is no tacit approval for it in the culture. It was shared that some male colleagues held the incorrect view that women who wanted to join male teams would be comfortable with the banter and laddish culture and so were surprised that they were expected to moderate the behaviour. It's important to note that anyone leaving the workplace due to this culture would be sure to spread the word in the community and to the customer base. One of the group members shared that having laid foundations with regards to conduct several years ago, and fired perpetrators, the number of reported incidents are rare now. Those with zero tolerance policies agreed that they now saw very few cases, so it seems to work well as a way to build an inclusive culture. It's important to note that women are more likely to leave a workplace than to make an official complaint if they don't feel supported so analysis of staff turnover by sex is also important to ensure there aren't unvoiced issues.
We discussed that key performance indicator information such as employee climate surveys and customer satisfaction data should be disaggregated by sex to explore if men and women are giving or receiving very different ratings. An employee survey achieving high results from both sexes could indicate that the culture is one in which both women and men can thrive. It was noted that customer complaints against female colleagues were very rare and was another benefit of having better female representation in sales.
Our conversation concluded with a shared understanding that there's no shortcut to creating an inclusive culture and improving female representation. It's essential to make a plan and set out on a journey that won't lead to gender balance overnight but will make sure it's done properly and the environment in which diverse women and men can thrive will be sustained in the long term. The critical point is to start now – because otherwise the company will be left behind and competitors will seize the advantage and benefits of a gender-balanced business.
Julia Muir
CEO Gaia Innovation Ltd
Founder Automotive 30% Club
Author "Change the Game: the Leader's Route Map to a Winning Gender-Balanced Business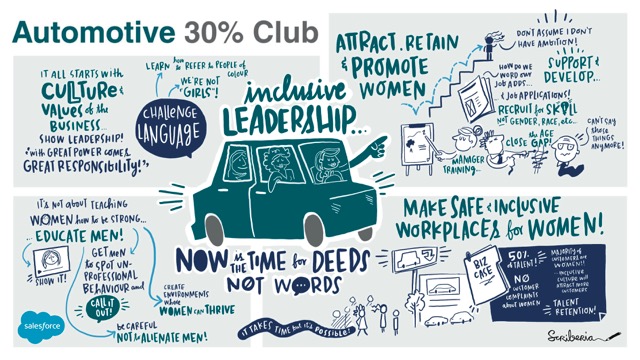 Scriberia image, courtesy of Salesforce